Christian persecution increases by more than 30% in one year
According to the annual survey held by the Open Doors organisation, persecution against Christians around the world has increased by more than 30% in one year. During the year of 2020, 260 million cases were accounted for but in the first weeks of 2021, the number of persecuted Christians already surpassed 340 million.
In relation to the number of Christians killed for the faith they profess, the amount killed increased by 60%. Just in 2020, the numbers jumped from 2983 to 4761.
The violence towards Christians increased mainly in specific regions, such as the African continent. Another factor that contributes to the persecution of the Christian faith is the use of technology, set in place to monitor Christians. We see this happening in parts of China and India.
To carry out the survey, Open Doors carried out field research with specialists and persecuted Christians in their respective countries and communities.
Countries intensify persecution during the pandemic
On top of all this, the Covid-19 pandemic is among the causes for the rise of religious persecution, according to the organization, which intensified discrimination even more.
A document produced by the organization reveals that Christians in places such as Bangladesh, India, Pakistan, Yemen and Sudan did not receive help from the government because of the faith they profess. The survey also revealed that Nigeria was the country which killed the most Christians in 2020. This country is also in the list of the top 10 countries with the most attacked churches in 2020. In total, more than 3,088 church buildings were attacked.
Unfortunately, although it's a problem that affects millions of people around the world, only few speak about it.
See below the top 50 countries that persecute Christians the most: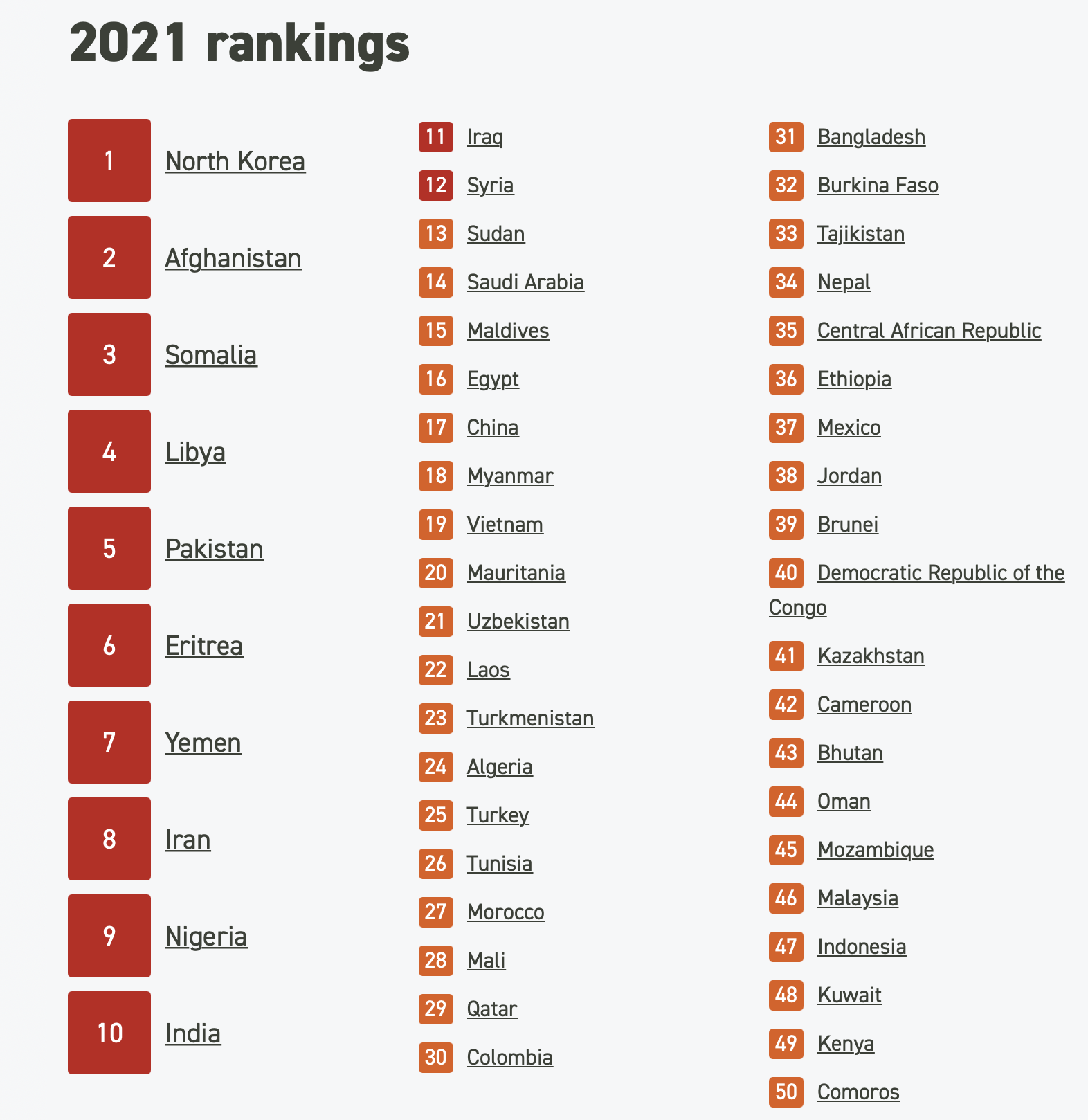 In light of all of this, the Lord Jesus warned us:
"Then they will deliver you up to tribulation and kill you, and you will be hated by all nations for My name's sake." (Matthew 24:9)
To know more about the events that mark the end of times, join us every Sunday at 6pm where we hold a Bible study based on the Book of Revelation at all of our UCKG HelpCentre's.