Breaking down barriers, one at a time
goals and dreams, my trust in God, the power of faith, the right words,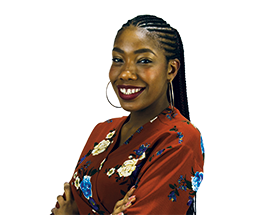 'I struggled in school from a young age. I was under performing, I had difficulty believing in myself and this immensely hindered my progress. There came a point where I thought to myself, "What can I do to change this situation?". I was 18 at the time and fed up of being aimless.
That's when I decided to take part in the Independence Project at the UCKG HelpCentre, every Monday. There, I learned about the power of faith! The meetings emphasised to me that faith plus action produces results and that I would be unbalanced without putting my faith into action. As a first step, I created a 'vision board' — a poster with images representing my goals and dreams — and placed a photo of a graduation ceremony there, and then I started pursuing my dream.
Attending the meetings helped me to see myself differently. It pushed me to go against my insecurities and my habit of shying away from anything that takes me out of my comfort zone. The meetings were really a boost to keep me going. After making God a part of my academic life and taking the necessary actions, my grades started improving, and I managed to get into university.
At first, that new phase – at university – was extremely daunting, as I had to be independent. I didn't have any teachers pushing me to do well or remind me about deadlines. This caused me to lean even more on my faith; I didn't submit a single piece of work for marking or take an exam without asking God for His guidance. At times, especially during the final year, I felt like giving up because the workload increased, and balancing everything was getting too much. Doubts were bombarding me – thoughts such as "you can't do it", "you're going to fail", and "you're not good/smart enough" filled my mind.
What kept me going was my trust in God and the fact that I knew He didn't bring me this far for me to fail.
"THESE MEETINGS OPENED MY VISION"

I persevered despite all the stress and just got on with what I had to do. However, another issue came up. It was approaching the time of my graduation, and I found myself without a job or work experience of any sort related to the field I studied.
The closer it got to my graduation, the more anxious I became, as I didn't want to end up as yet another unemployed graduate.
Around the same time, a friend told me about a job vacancy at her workplace, and I didn't hesitate to apply, as it was closely linked to the field that I studied. Before I went to the interview, I prayed asking God to give me the right words and favour. A few days passed, and I was told I had got the job, even though I didn't have any experience in a legal or management role.
In the end, I graduated with a grade I never thought I would have achieved by myself and I found a good job. I am very happy and looking forward to greater things!'
Chris-Ann Campbell
The Independence Project takes place in all UCKGs every Monday at 7am, 10am, 3pm and 7.30pm (main meeting). See if you too could benefit.