No such thing as a free meal? We disagree!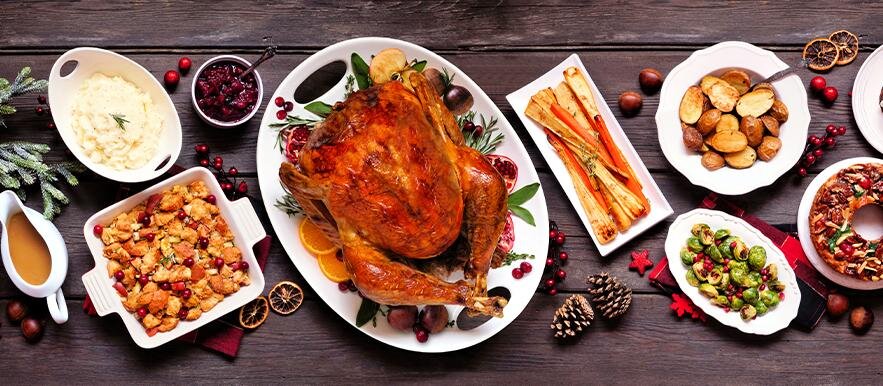 We appreciate that Christmas can be a really hard time of the year for many during the pandemic, the number of people living in food poverty has increased.
According to a report from the Environment, food, and rural affairs committee, around six million adults and nearly two million children struggled to get enough food between September 2020 and February 2021.
This is why on December 25 we will be giving out a Christmas Day lunch in three of our branches: Finsbury Park, Catford, and Peterborough.
From 12pm until 2pm (Peterborough from 11am until 1pm) people will be able to come to any of these branches to collect a freshly cooked meal so they can take it home. It will be a traditional Christmas meal with all the trimmings!
Around 15 to 25 volunteers in each branch, who are willing and happy to take time out during this festive period to help those in need during this time, will be there to prepare and pack the food and make sure everything plays out without a hitch. We will operate on a first come first served basis, so punctuality is key!
Pastor David Nzuruba, who leads the Outreach team says they hope to be able to add more branches each year "Catford has been doing it for several years, last year we added Finsbury Park and this year we have added Peterborough and we hope to keep adding more branches in the future. We expect it to be a very nice day and a blessing" he concluded.
Last Christmas, the Catford branch served a total of 176 meals thanks to the tireless efforts of over 25 volunteers who took time out of their day to prepare meals so others could enjoy a warm, festive meal.
Kim Powell, who oversaw the Christmas lunch on the day says: "For our Christmas lunch we have dedicated volunteers who start working on Christmas eve, and working all throughout the night, to make sure the people in our community have hot meals.
We're in the middle of the pandemic and many people are suffering from food poverty, and some of these people are at work. What we hope to do with the Soup Kitchen is to make sure that nobody is left behind and that nobody spends Christmas without enough food to eat.
With our service, it is no question asked. You can turn up and receive the help that you need. We are here to support everyone. We wouldn't be able to do this without the help of our volunteers to serve and help the community."
This year the Universal Church opened two more Soup Kitchens, meaning that now we have a total of nine operational Soup Kitchens across all our branches in the UK and hope to expand in the new year to come.
We will continue to offer our time to those who are in need because…our heart beats to help!
If you know anyone that may benefit from our service please do let them know. You can call our helpline or WhatsApp us for more info: 020 7686 6000
Sources:
https://committees.parliament.uk/publications/5360/documents/53400/default/