Night Vigil of the Chosen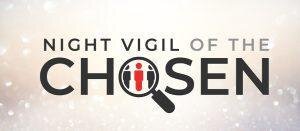 "For many are called, but few are chosen." (Matthew 22:14).
 There is something in common between most people who come to the church: they come looking for a solution to their problems. However, as time pass, there are those who decide to keep following Jesus and those who don't. We can see an example in the Bible when ten lepers were healed but only one came back to thank the Lord (see Luke 17:11-19).
 God calls every one of us intending to choose us, but the fact is that it's our own decision to make ourselves chosen. There are several people suffering in the world and God wants to use all of us – who once also suffered but were transformed by His power – to reach and help those who are out there still suffering. The question is: are you willing to make yourself available to Him? We make ourselves available when we ask Him to count on us.
Maybe you think, "But I'm not perfect enough for Jesus to use me." No one is perfect, but when we make ourselves available to God, He empowers us and uses us to make a difference. That's why we are calling everyone for a special event this Friday, 15 October, 10.15pm: the "Night Vigil of the Chosen."
All London branches will gather at the Rainbow Theatre, 232 Seven Sisters Rd, N4 3NX (outside London branches will take part via videoconference). Don't miss this opportunity to make yourself one of God's chosen!
Event: Night Vigil of the Chosen
Day and time: Friday, 15 October, 10.15pm
Location: Rainbow Theatre, 232 Seven Sisters Rd, N4 3NX (outside London branches via conference)
For more info: Please call or WhatsApp our 24-hour Helpline on 020 7686 6000