Liberty event in Tooting branded a complete success!
Mayor of Wandsworth, Mayors Roll of Honour, Universal Church, work of the Universal Church,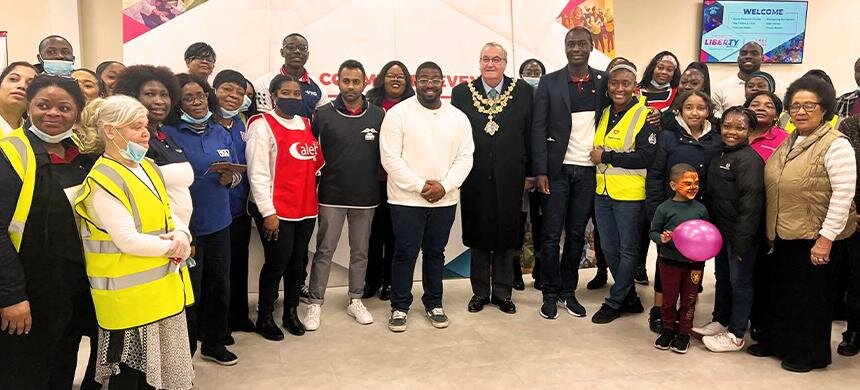 Our Universal Church located in Tooting successfully held the 'Liberty event' on Saturday, 26th February.
Our volunteers came willing and ready to help make this event the success that it was, attended by over 60 people, possible.
This event was to showcase the work the Universal Church does within our local community in Tooting, South London. Some of the groups that helped make this day a success was: Patient Care Group, who offered blood pressure tests and nutritional advice, the ROD group (Rescue of Dignity) offered support for inmates in prison, Beat Depression offering one-to-one advice for those who may be struggling with mental health and the Caleb group for those who are over 55's on the day they offered pampering treatment.
Attendees were treated to great food, donated by Don's Caribbean restaurant, Franco Manca and Dawat & Lahore.
The event was attended by the Mayor of Wandsworth, Sir Richard Fields who even awarded the Universal Church the Mayor of Wandsworth pin badge. Sir Richard took the time to sit down and talk to the different groups individually, to understand their functions. The Mayor was very fascinated with the work of the number of different groups.
He was pleased to see the charitable works of the church providing the local community with our weekly Food bank and the support offered by each group.
Pastor David Osei who oversees the Universal Church in Tooting, said: "The Liberty Event here in Tooting was a blessing and a success. There were many people within the community who benefited from the event.
At the very end The Mayor asked to make a speech with us all and highly commended the work of the Universal Church and also honoured us with The Mayors Badge, he also mentioned that the Universal Church would be going on the "Mayors Roll of Honour" for the work that we do within the community. The Mayor's roll of honour is a list of local people who have volunteered their time to help others.
The volunteers on the day echo the general feeling that the event was a success.
Pastor David said that all in all "the entire day was a blessing and a success, with people from the public even mentioning that they would be returning again and would spread the word."
https://wandsworth.gov.uk/the-council/councillors/the-mayor-of-wandworth/mayors-roll-of-honour/roll-of-honour-2022/