Starting over
attention-seeker, fiance, God, I knew God, I was an emotional mess, made it possible, Master of Business Administration, Masters in Business Administration, Mother, My world collapsed, worked very hard,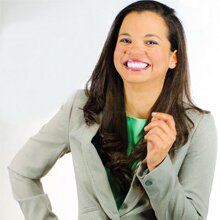 The person that I was before could have been described as the epitome of an emotional wreck. I lost my father when I was two years old. My mother worked very hard to support me and my sister; she would wake up early and came home late at night, but she was always too tired to give us the attention we needed.
This had a negative effect on me as a small child, and as I grew older I took refuge in friendships and relationships. I felt valued and wanted.
That's how I turned into the needy girl that always wanted attention. I played the victim in every situation and was a terrible drama queen. I would cry by myself a lot of the time, and put myself down. I went through phases where I just wanted to show off; I needed to feel liked by everyone. I would do anything to please my friends that I didn't care about the consequences.
I was an emotional mess and caused arguments with my mother. Soon, we began to fall out because she didn't want me to date, but I still snuck out of the house to do what I wanted.
I was in a relationship, however it had many ups and downs. My boyfriend and I were together for three years and a few months. I met his family and he even proposed to me on Christmas Eve. We hadn't been together a year yet. I was 17. We had planned to finalise the engagement when he finished college, as he studied outside of the country. However, when he returned, there was going to be an engagement, but the bride-to-be wasn't me…
I discovered that he had gotten someone else pregnant—a girl who he had told me was only a friend! I felt as if the ground beneath my feet had disappeared, but foolishly, I still wanted him back. However, the last straw happened a few months later.
My husband-to-be had finished college and was supposedly coming back to see me. I called his sister, but one of his cousins picked up the phone and told me that his sister was wedding shopping. However, she wasn't shopping for our upcoming engagement; my fiancé was going to marry this other girl!
My world collapsed. I didn't even have the words or the energy to express how I felt. I just didn't want to let go. Because of all of this, I fell into a deep depression for around a year. I became a zombie and refused to leave the house to go out with friends.
When I was seven years old, my mother used to take me to the UCKG HelpCentre with her, and I loved going to the Children's Biblical Centre (CBC). Sadly, my mum stopped attending and so, as a teenager, I started attending a different church with some of my friends, just so that we could talk to boys.
So when a friend invited me back to the HelpCentre, I was willing to go. I had been through too much and all I wanted was to start again.
When the Campaign of Israel was announced, I participated in it to change my inner self. I didn't want to be the same Paulett. I prepared my vow and did what I knew God was asking me to sacrifice.
I was attending the Wednesday, Friday and Sunday meetings to support my sacrifice and to seek help from the One I knew could create that inner change within me. God took away all of my hurt and the emptiness I had felt for so long, and replaced it with a new heart and mind. I think differently to how I did before and I have a great peace inside of me that allows me to stay calm. I am no longer an attention-seeker, nor am I emotional and unstable.
I have also participated in the campaign for my studies and finances, as when I was depressed, it was as if my life had stopped. But I will soon be completing my MBA—Masters in Business Administration.
I am very happy with my life and the way things have turned out now. My mum and I are now best friends. I have been much better off since I came to the HelpCentre, because there is where I found the One who made it possible to start again.