Youths Volunteer for 'Keep Roath Tidy'
north east Cardiff, on this occasion, practical support activities,
Thursday, 29 June 2017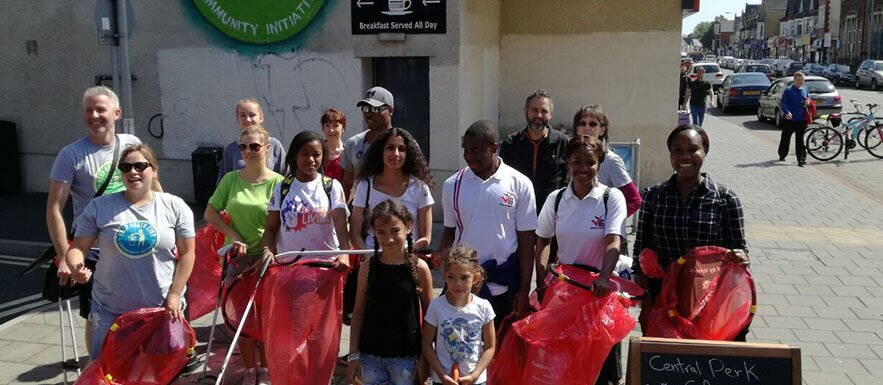 Half a dozen young people from the Cardiff branch of the Victory Youth Group (VYG) were out on the streets of Roath, north east Cardiff, recently, as part of the group's annual We Care! – Youth Engagement day. This is when VYG's 15-24 year olds help to tackle environmental tasks in their communities, often in association with the local authorities.
In Roath, however, VYG worked alongside Keep Roath Tidy, a community group that comes together every Saturday morning to give back to its community, and on this occasion, the task confronting them was litter picking.
Each VYG member was paired with an experienced Keep Roath Tidy volunteer, which turned the morning into a lovely way to meet new people as well as a service to the community.
ENDS
Notes to editors
UCKG is a Christian church and registered charity that offers a range of practical support activities alongside spiritual support and comfort. It reached the UK in 1995 and has gone from strength to strength, providing support and spreading the Christian faith through its branches in England and Wales.
VYG is the youth arm of the UCKG HelpCentre, and works to help young people develop their full potential. VYG started in the UK in 1996 and has been growing steadily ever since. Over 1,300 young people attend VYG meetings every week, sharing sessions that include practical teaching, fun and spiritual development.
For further information please contact the UCKG HelpCentre Press Officer via e-mail on press@uckg.org or direct line 020 7686 6033, or call the PR consultant on 07867 510909.