With God you will prevail
having the Holy Spirit, journey of faith, with God you will prevail,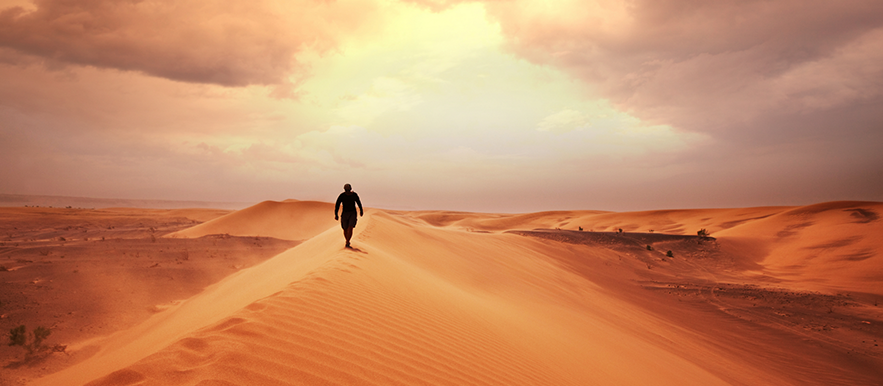 As Christians you will face hardships. Many people assume that their life will become a battle-free paradise when they come to God, and so when they begin to face battles in their journey of faith, they get confused and give up.
Many people think that following Jesus means living a trouble-free life, but Jesus shows us that we will suffer persecutions and hardships. The difference however, is that it's not going to be like before, because with God you will prevail and you will know that you are going to face battles.
I've noticed that some people are happy as long as everything is okay, they remain happy until the situation gets tough and then they abandon their faith. Don't let the devil confuse you, perhaps your faith is simply being tested.
There are times when God allows you to go through difficulties and to face deserts, but these moments work together for our good. God allows these hardships to pass so that we may become better for Him. He allows us to pass through deserts so that we may grow and mature through the experiences that we go through.
Here comes the importance of having the Holy Spirit. He is the one who will sustain  you when you go through the fire. This is why we tell people that they must have the Holy spirit because He is the One who helps us go through situations we cannot make on our own. He gives us the strength that makes us go all the way.
God will allow you to go through deserts to create in you virtues that you may not possess yet – trust, spiritualty, maturity, a persevering spirit – you require all of these vital attributes in the desert.
"And not only that, but we also glory in tribulations, knowing that tribulation produces perseverance; and perseverance, character; and character, hope. Now hope does not disappoint, because the love of God has been poured out in our hearts by the Holy Spirit who was given to us." (Romans 5:3-5)
The battles that you are facing now will help you overcome battles that you will face tomorrow. All of us will face deserts but the decision is ours of whether we allow the deserts to make us or break us.