My faith awakened
Belief in God, Christian, find true peace, God, personal space, Physical therapy, Suffering,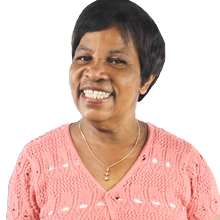 I had suffered, for the most part of my 44-year marriage, with verbal and physical abuse. This led to me becoming full of anger and resentment. But I didn't tell anyone what was going on, as the situation was quite humiliating.
I was embarrassed about the situation, so I kept everything bottled inside. But I didn't want to suffer; I didn't want to remain in such a relationship that would someday lead to my death. I wanted to stop suffering!
I eventually ran away from where we were living to stay with my daughter and her family. But it was not necessarily easy for us to live together, and I felt as though I was intruding on their personal space, nevertheless, I moved out to live independently, and it was during this time that someone invited me to the HelpCentre, and I began to attend on Sunday mornings.
I was not getting any younger, so I didn't have many goals for myself and because I married my ex- partner at such a young age, life with him was all I knew. But by living alone I was able to reflect on my life, on my journey through the failed marriage, and on what I wanted from the rest of my life.
The Sunday meetings restored the hope in me that, despite my age and my past, my life was not over yet and I could still be happy. The faith in me that was asleep for so long was awakening. I had been through so much, but I had to learn to forgive and to heal from all the hurt that I felt. I had to do this for myself so that I could find true peace.
These meetings help me to strengthen my mind. Today, I have managed to overcome all grudges and resentment towards my family, including my ex-partner.
Above all, I have been able to connect with God, and build a relationship with Him. Today I am happy and content within myself; I am growing gracefully, and I have the assurance that my life and my soul are in the hands of God.
Eunice Hudson