VYG Resumes Sports and Social Activities
mental and physical effects of the lockdown,
Tuesday, 31 August 2021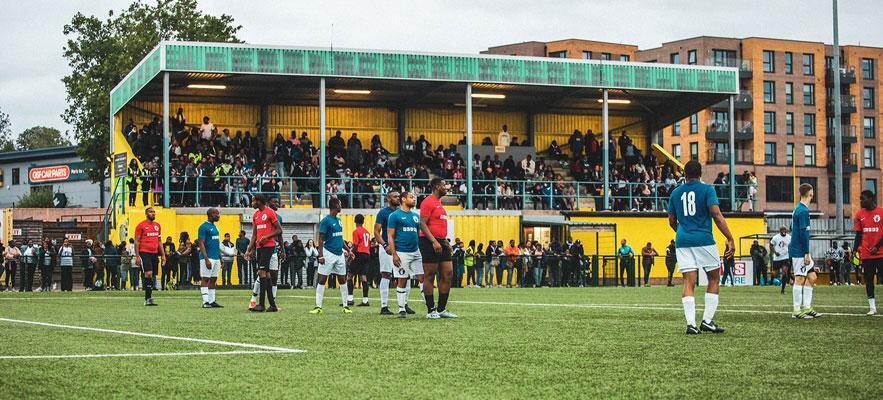 One of the UK's liveliest youth groups, the VYG, has just restarted its social and sporting activities in London, with a football match in support of its long-running anti-knife and gun crime campaign, Life's Worth Living.
The match between VYG teams representing north and west London and south and east London, was held on August bank holiday Monday, at Haringey Borough FC's, Coles Park Stadium in Tottenham. The result was a 3-2 win for the S/E, however the players' honours were  shared.
As the VYG's first sports and social event for 18 months, the match attracted over 600 young spectators who were treated to an exciting contest that involved the top players from no fewer than 15 VYG branches.
The N/W team comprised talented footballers from VYG branches in Finsbury Park, Edmonton, Wood Green and Hackney, and Southall, Hammersmith and Kilburn, while the S/E players were from Croydon, Brixton, Catford, Peckham and Tooting and Plaistow, Stratford and Gravesend.
Phillip Kumi from Plaistow VYG the S/E team's winger who made a clear difference on the pitch and managed to secure the winning goal was chosen as man of the match. The top scorer, and runner up man of the match was Claudien Mwalimu from Hammersmith VYG, who carried the N/W team in the first half with two impressive goals.
Ade Titilawo, who heads the VYG throughout the UK said: "Young people have suffered disproportionately from mental and physical effects of the lockdown, over the past 18 months. The match was intended as an opportunity to get back into positive activities they're passionate about as well as a chance to have fun. I believe it was a big success on both counts."
ENDS
Notes to editors
UCKG is a Christian church and registered charity that offers a range of practical support activities alongside spiritual support and comfort and welcomes all- comers. It reached the UK in 1995 and has gone from strength to strength, providing support and spreading the Christian faith. There are UCKG HelpCentre branches in England, Wales, Northern Ireland and Scotland.
VYG is the youth arm of the UCKG HelpCentre, and works to help young people aged 14 to 25 to develop their full potential. VYG started in the UK in 1996 and has been growing steadily ever since.  Over 1,300 young people attend VYG meetings every week, sharing sessions that include practical teaching, fun and spiritual development.
For further information please contact the UCKG HelpCentre Press Officer via email on press@uckg.org or direct line 020 7686 6033.