Pop-up Clinic
The soup kitchen,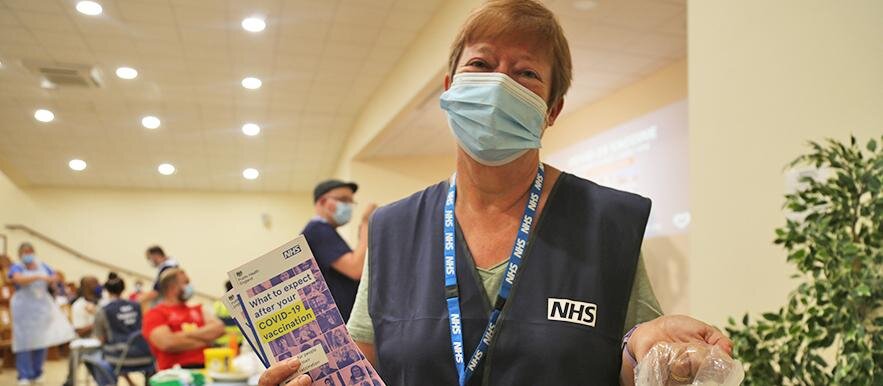 COVID-19 vaccinations will be available to all on a walk-in basis at the UCKG HelpCentre in Catford on Saturday, 11 September, under the auspices of the NHS South East London Clinical Commissioning Group.
The vaccination clinic will be open from midday until 3.30pm at 1 Bromley Road, SE6 2TS for one day only, no appointments are needed.
The HelpCentre was selected as a vaccination site thanks to the kindness of the UCKG's community outreach team. On learning that some users of its weekly soup kitchen were having difficulties in getting vaccination appointments, they were eager to solve the problem by providing a facility on site.
The result is that a team of NHS professionals will come along to administer vaccinations at this pop-up clinic on 11 September, where a first or second dose of the AstraZeneca and Pfizer vaccines will be offered. Anyone aged 18 and over is very welcome to walk in and benefit from this service, and they will not have to provide proof of address, immigration status, ID, or an NHS number to be vaccinated.
People who have already had their first dose at a different clinic, but cannot get back there for any reason are also welcome to have their second dose at the UCKG HelpCentre.
The Catford soup kitchen  
The soup kitchen of the UCKG Catford is open every Saturday from 11am to 1pm to provide soup, bread and light refreshments to people in need. Anyone who is homeless, in temporary accommodation or low waged is especially welcome.
Feeding anywhere between 50 and 200+ people each week during the pandemic, the soup kitchen volunteers source ingredients for the soups and take-home packs they prepare from FareShare, supermarkets and local businesses and individuals.
ENDS
Notes to editors 
UCKG is a Christian church and registered charity that offers a range of practical support activities alongside spiritual support and comfort and welcomes all- comers. It reached the UK in 1995 and has gone from strength to strength, providing support and spreading the Christian faith. There are UCKG HelpCentre branches in England, Wales, Northern Ireland and Scotland.
The UCKG HelpCentre's pop up COVID-19 vaccination walk-in clinic is among those highlighted on the NHS South East London website for Lewisham:
https://selondonccg.nhs.uk/what-we-do/covid-19/covid-19-vaccine/pop-up-clinics/
For further information please contact the UCKG HelpCentre Press Officer via e-mail on press@uckg.org or direct line 020 7686 6033.