Easter eggs for children in Leeds Hospital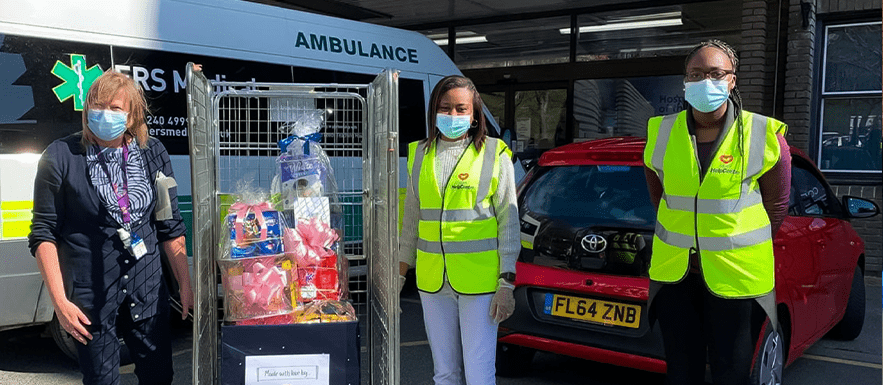 Children who spent Easter in hospital in Leeds, were given 102 Easter eggs by the parents and children of the city's UCKG HelpCentre, with the delivery made on 29 March, in good time for the holiday weekend.
Lisa Beaumont (left), manager of Leeds General Infirmary Children's Hospital received the donation from Meleita Ledgister, (centre), wife of the senior pastor at the HelpCentre and one of the volunteers, Francetta Solomon Knox (right). The gifts were handed over in the Clarendon Wing car park, in line with the hospital's COVID-19 restrictions policy.
The Easter eggs and chocolate bunnies, in many popular brands, were all donated by the parents and children who use the HelpCentre's Children's Biblical Centre, which provides care, play, and age appropriate Christian teaching for children whose parents attend church services there.
Meleita said: "We wanted the hospital staff and parents of the sick children to know that the UCKG provides practical help as well as spiritual support and can be there for them when needed.
"Lisa told us that she really appreciated the donations and the accompanying cards, which were written by the CBC children for fellow children who are sick in the hospital."
ENDS
Notes to editors
UCKG is a Christian church and registered charity that offers a range of practical support activities alongside spiritual support and comfort and welcomes all- comers. It reached the UK in 1995 and has gone from strength to strength, providing support and spreading the Christian faith. There are UCKG HelpCentre branches in England, Wales, Northern Ireland and Scotland.
For further information please contact the UCKG HelpCentre Press Officer via e-mail on press@uckg.org or direct line 020 7686 6033.