Christmas gifts for children in Leeds hospital
Biblical Centre, Christmas treats,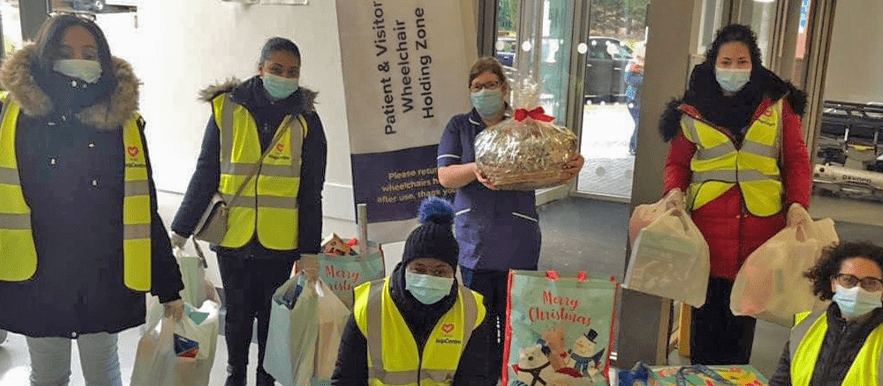 The morning of 16 December saw a team of six volunteers from the Leeds UCKG HelpCentre, deliver 200 new toys for children in the city's St James Hospital. The toys were suitable for little ones from babies up to the age of about 10 years; and the team who delivered them were led by Mrs Meleita Ledgister, the wife of the HelpCentre's senior pastor.
Along with the toys, the HelpCentre volunteers also presented a hamper full of Christmas treats for the staff working with the children, which was received by the family care sister, Dawn Clements. Both of these generous donations were gifted by the HelpCentre's Children's Biblical Centre, which provides care, play and age appropriate Christian guidance for the children of parent members who are attending services at the church.
Following the visit, Ms Clements emailed to say: "It was so lovely to meet everyone earlier today. On behalf of the team I would like to express my gratitude and appreciation for your amazing donation." Mrs Ledgister said: "We wanted to show the hospital team that we value their contribution to the community and also ensure that children facing any adverse situation at this time felt cared for.
"We're keen to develop close working relationships with vulnerable groups in the community so they see us as willing and able to help whenever they need the spiritual and practical support that we have to offer to the community."
ENDS
Notes to editors:
UCKG is a Christian church and registered charity that offers a range of practical support activities alongside spiritual support and comfort and welcomes allcomers. It reached the UK in 1995 and has gone from strength to strength, providing support and spreading the Christian faith. There are UCKG HelpCentre branches in England, Wales, Northern Ireland and Scotland.
For further information please contact the UCKG HelpCentre Press Officer via e-mail on press@uckg.org or direct line 020 7686 6033.