A successful community-building dining initiative
Cook Out to Reach Out,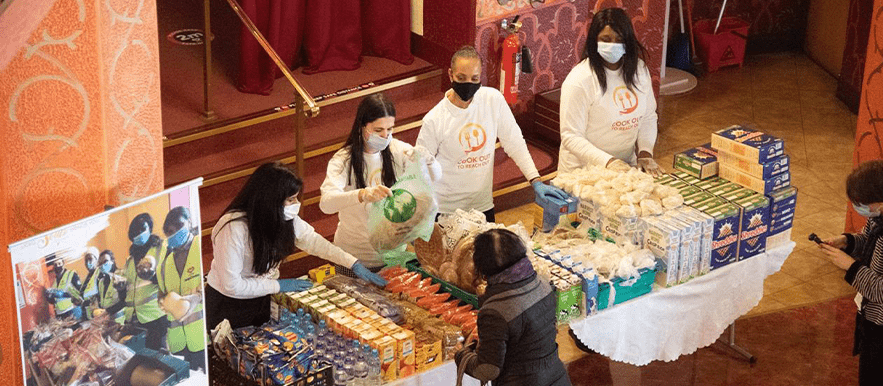 With the prospect of 'normality' still weeks off, the UCKG HelpCentre launched its Cook Out to Reach Out initiative at the Rainbow Theatre, Finsbury Park on 1 May. Over 100 of the hardest hit members of the local community were provided with a good quality restaurant meal and food to go, thanks to the coordinated efforts of the charity's community outreach team and local businesses.
Eleven restaurants, a supermarket and a sandwich chain branch all chipped in and contributed a choice of meals and bags of provisions to take away for 101 individuals. Typically, the recipients were either homeless or so low-waged that they were having to choose between eating and paying their rent.
David Nzuruba, the UCKG's community outreach manager said: "We are so grateful to the 11 restaurants who shared our vision for bringing the community together, to take care of some of those within it who have a particularly awful time through the pandemic. It's meant that people who've been unable to eat well for months got to enjoy a good, hot meal."
The 11 restaurants, all from the Finsbury Park area, were:
Cafe Mexicali                                    Come & Go Souvlaki Greek Restaurant           E-Mono Turkish Restaurant    Standard Tandoori
Hana Sushi                                       Holloway Pizza                                                                       Nandos                                               Pizzeria Pappagone
Pizza Express                                    Pepe's Piri Piri
Rosa's Thai Cafe
In addition to the hot meals, Waitrose gave canned goods, pasta, oil, biscuits, jam, rice, and tea bags. Pret a Manger donated muesli, baguettes, sandwiches and salads, and Edible London, which grows and supplies healthy food also contributed.
Hungry locals began to queue at the HelpCentre from 7am on 1 May and during service they were entertained by performers from the UCKG's youth group, VYG, with songs from their own repertoire and a acapella rendition of Hillsong's 'Oceans'.
Not surprisingly, the donors, beneficiaries and the UCKG all deemed the event a success; and it's one that is to be repeated in the not too distant future.
Cook Out to Reach Out was promoted by leafleting regular attendees at the soup kitchen, held every Saturday at Finsbury Park HelpCentre and encouraging them to spread the word. David Nzuruba's team also left invitations in hostels and hotels used by homeless people, shared the news via their social media pages and put up posters in local shops.
ENDS
Notes to editors
UCKG is a Christian church and registered charity that offers a range of practical support activities alongside spiritual support and comfort and welcomes all- comers. It reached the UK in 1995 and has gone from strength to strength, providing support and spreading the Christian faith. There are UCKG HelpCentre branches in England, Wales, Northern Ireland and Scotland.
For further information please contact the UCKG HelpCentre Press Officer via e-mail on press@uckg.org or direct line 020 7686 6033.