9 Sundays of the Fruit of the Holy Spirit – Peace
a gift from God, the Garden of Eden,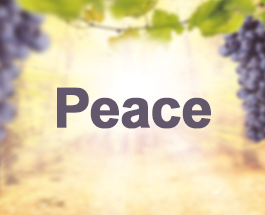 Man's fall in the Garden of Eden destroyed the peace he had with God, and himself, with others, and with nature itself. But through the cross of the Lord Jesus, God re-established this peace, as it is written:
'Therefore, having been justified by faith, we have peace with God through our Lord Jesus Christ.' (Romans 5:1)
This peace is much more than inner tranquility that endures in spite of external circumstances. It is the result of a person having been reconciled with God, pardoned of his sins and gone through the conversion of his soul. The Lord Jesus once said:
'Peace I leave with you, My peace I give to you; not as the world gives do I give to you.' (John 14:27)
The peace Jesus is talking about is a gift from God. As a matter of fact, it's a sign of God's connection with our souls by means of the Holy Spirit, who reveals Christ to us and brings assurance even in hard times.