9 Sundays of the Fruit of the Holy Spirit – Patience
according to His good, must follow His example,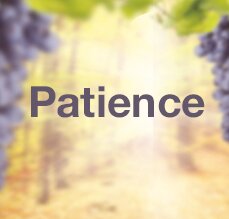 This is firmness of spirit, the ability to wait patiently until what we want comes to pass.
In a world where anxiety has become a disease, the Holy Spirit gives us the calm assurance that everything will be done according to His good, acceptable and perfect will.
Also, when we have this fruit, we tolerate the insults and offences of others because we know that the Lord Jesus tolerates ours, due to His great longsuffering.
This is exactly what happened on Calvary. Whilst the soldiers looked for a way to make Jesus suffer even more, hurting Him, piercing His hands and feet with nails, placing a crown of thorns on His head, leaving Him to thirst, the Lord prayed for them, saying: "Father, forgive them, for they do not know what they do" (Luke 23:34)
We as His servants must follow His example.
"The servant of the Lord must not quarrel, but must be gentle toward all people, able to teach, patient, in gentleness instructing those in opposition. Perhaps God will grant them repentance to know the truth…" (2 Timothy 2:24-25)