Private prayer returns to UCKG HelpCentres
pastoral team, spreading the Christian faith,
Saturday, 13 June 2020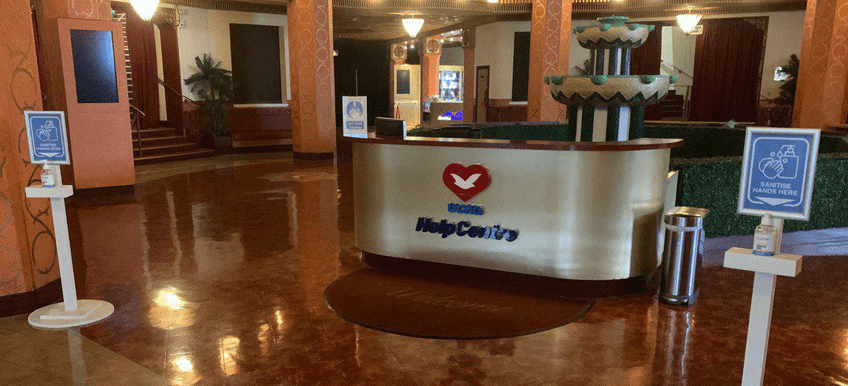 With effect from Monday 15 June, it will be possible to enter any of the 30 full time UCKG HelpCentres in England and Northern Ireland for private prayer, although anyone who is shielding, a vulnerable person or in quarantine should not attend.
After careful and detailed consideration, Bishop Álvaro Lima, the UCKG HelpCentre's Bishop in Charge for the UK, and his senior management team are satisfied that these churches can meet the latest government guidelines. Each HelpCentre has been risk assessed, and on Sunday 14 June, the lead pastor for each of them is being provided with everything they need to ensure the HelpCentres are ready for people to come in from the next day onwards.
The materials provided include sufficient hand gel dispensers for the size of the HelpCentre, NHS signage, floor and general-purpose tapes to be used to restrict access and facilitate social distancing, and full sets of cleaning products. PPE is included for pastors, their assistants and any volunteers who will help to manage access to the buildings.
The UCKG's part time HelpCentres will all remain closed at this time.
The guidelines
Government guidelines define private prayer as taking place when an individual or a household enters a place of worship to pray on their own, and does so on a socially distanced basis. For the time being communal prayer, even just with a pastor, is not permitted, and neither are any communal services of prayer.
"We are delighted that the government now recognises the contribution churches make to wellbeing and peace of mind for many people at this challenging time, and the importance for some of actually coming into a church," said Bishop Álvaro.
"Our online services will continue to be our main route to serving God and humanity for as long as the pandemic persists, and of course, our telephone helpline 020 7686 6000 is a permanent feature of the UCKG", he added.
Opening hours
HelpCentre opening hours have been designed to fit around the times of the online services for legal reasons. On that basis entry to HelpCentres is permitted from 7am until 5.30pm, Monday to Friday, with closing time two hours before each day's main service at 7.30pm. On Saturdays, HelpCentres will be open from 1pm until 5pm, and on Sundays, private prayer is permitted from 12pm until 5pm.
All online services can be accessed through the links below:
Facebook – https://www.facebook.com/UniversalChurchUK/
Instagram – https://www.instagram.com/uckguk/
YouTube – https://www.youtube.com/user/uckgtv
Liberty Radio – https://www.libertyradio.co.uk
Univer Video* – https://www.univervideo.com
*(broadcasting Wednesdays 7.30pm and Sundays 10am only)
Managing access
In order to keep the faithful and its pastoral team safe, the UCKG is introducing strict rules for accessing HelpCentres, and these are being widely publicised in its social media channels and website.
Firstly, people coming along for private prayer are being encouraged to bring their own face masks to be allowed entry. Should queues develop, the time permitted for prayer will be limited to a maximum of five minutes, so that the HelpCentres' neighbours are not inconvenienced by the potential build-up of lines of people outside.
Access to the buildings will be managed by the pastors and their teams wearing PPE. Routes around inside the buildings will be one-way in support of social distancing, or carefully managed in smaller HelpCentres where this is not possible. Physical contact, such as hand-holding, will not be allowed, and people will be urged to not touch any surfaces unless it is strictly necessary, for instance to help in getting up out of a seat.
Toilets will be available. They have been risk assessed and will be subject to rigorous cleaning. Other ancillary services, such as bookshops or cafes on HelpCentre premises remain closed.
As far as possible all other activities, such as making prayer requests or donations should be done online. For people who find this difficult there will be baskets provided in each HelpCentre where these can be dropped off and safely handled by UCKG personnel in full PPE.
ENDS
Notes to editors
UCKG is a Christian church and registered charity that offers a range of practical support activities alongside spiritual support and comfort and welcomes all- comers. It reached the UK in 1995 and has gone from strength to strength, providing support and spreading the Christian faith. There are UCKG HelpCentre branches in England and Wales.
For further information please contact the UCKG HelpCentre Press Officer via e-mail on press@uckg.org or direct line 020 7686 6033.