Leicester HelpCentre is back in lockdown
Wednesday, 1 July 2020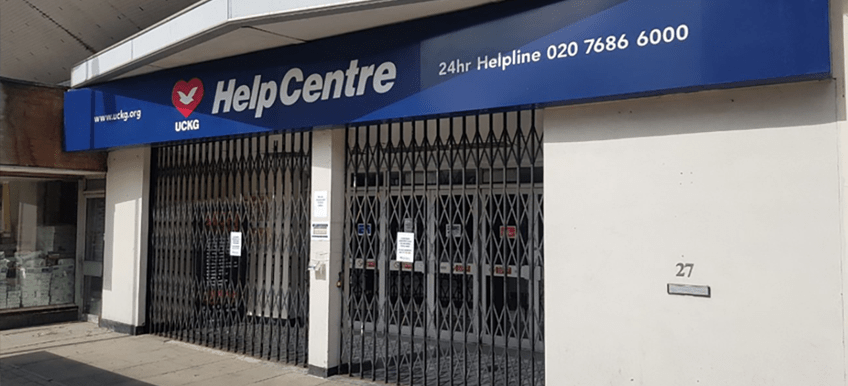 In compliance with the UK's first full scale local lockdown, the UCKG HelpCentre at 27 Abbey Street, Leicester, has once again closed its doors. The church had re- opened for private prayers on 15 June, and was looking forward to holding socially distanced services from 4 July, but none of that is now possible.
The government imposed the local lockdown in response to a spike in coronavirus infections in the city, and it will remain in place for at least two weeks. During that time anyone in need of Christian support from a UCKG pastor is welcome to call its 24-hour telephone helpline on 020 7686 6000.
Alternatively, worshippers can attend any of the UCKG's online services of prayer. These are held Monday to Friday at 10am, 3pm and 7.30pm, and on Saturdays at 10am and 3pm. On Sundays there are services at 7.30am, 10am, and 6pm, with a further service at 4pm for prayer dedicated to overcoming addictions.
All online services can be accessed through the links below:
Facebook – https://www.facebook.com/UniversalChurchUK/
Instagram – https://www.instagram.com/uckguk/
YouTube – https://www.youtube.com/user/uckgtv
Liberty Radio – https://www.libertyradio.co.uk
Univer Video* – https://www.univervideo.com
*(broadcasting Wednesdays 7.30pm and Sundays 10am only)
Bishop Álvaro Lima, the UCKG HelpCentre's Bishop in charge said: "I would urge our congregation to follow the lockdown rules strictly, for the safety of the community as well as their own health, and reassure them that we are always available for them by phone and online on a variety of platforms.
"Obviously we are disappointed that our followers in Leicester cannot enjoy the same increasing freedoms as the rest of the country, but there is good reason for this, and the better everyone complies, the sooner it will be over.
"We will certainly be ready to re-open for private prayer and for services as soon as that is permitted, as the Leicester HelpCentre has already been risk assessed and is fully prepared to operate safely."
ENDS
Notes to editors
UCKG is a Christian church and registered charity that offers a range of practical support activities alongside spiritual support and comfort and welcomes all- comers. It reached the UK in 1995 and has gone from strength to strength, providing support and spreading the Christian faith. There are UCKG HelpCentre branches in England and Wales.
For further information please contact the UCKG HelpCentre Press Officer via e-mail on press@uckg.org or direct line 020 7686 6033.