Best days ever for Kilburn soup kitchen
Thursday, 28 May 2020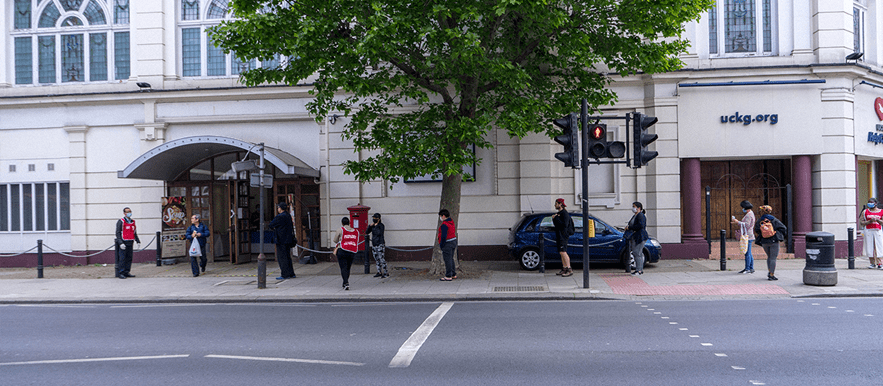 For two consecutive weeks now, the UCKG HelpCentre's Kilburn soup kitchen has been handing out 110 or more bags of provisions for local individuals and families who are finding it hard to put food on the table, and it is keen to do more.
Having first opened in April, when just 30 bags of food were given away, the soup kitchen has become a well established asset on Kilburn High Road, steadily increasing its supplies and feeding more and more people each week.
It received a major boost recently when two food redistribution charities – the Felix Project in Park Royal, and Fareshare – started contributing to supplies. In addition, two local residents also organised  donations in collaboration with Harrow Foodbank. Even so, there is still a need for more donations so that more people can be helped.
Although there are variations from week to week, the majority of those using the soup kitchen have either been furloughed, are on reduced hours, or otherwise have no work. It is not unusual for around 30 out of over 100 users to not be receiving any government help. A few are elderly or homeless.
Pastor Carlos, who runs the soup kitchen stated: "Returners, who have used the soup kitchen before now exceed the newcomers each week, and some of them have been with us since the start.
"Even so, last Saturday after we had distributed all the provisions we had, we still had people coming to us seeking provisions, thus we will work to continue to get more donations to meet the demand."
The returners included Mustafa Rahimi, who is on benefits but homeless, and spends much time on Kilburn High Road. He simply said: "I am happy with this church." Another returner, Farid Fatmie, who is a single man with no work due to the lockdown said: "You are doing well. It is helpful, thank you."
On her fourth visit to the soup kitchen, Miss Ediza Cundangan from Quex Road, NW6 added: "It's been helping during rough times especially when restrictions [are] in place. [I'm] working part time but still require help and the soup kitchen has really helped local residents".
ENDS
Notes to editors
UCKG is a Christian church and registered charity that offers a range of practical support activities alongside spiritual support and comfort and welcomes all- comers. It reached the UK in 1995 and has gone from strength to strength, providing support and spreading the Christian faith. There are UCKG HelpCentre branches in England and Wales.
For further information please contact the UCKG HelpCentre Press Officer via e-mail on press@uckg.org or direct line 020 7686 6033.