UCKG's Catford soup kitchen meets local needs
Wednesday, 1 April 2020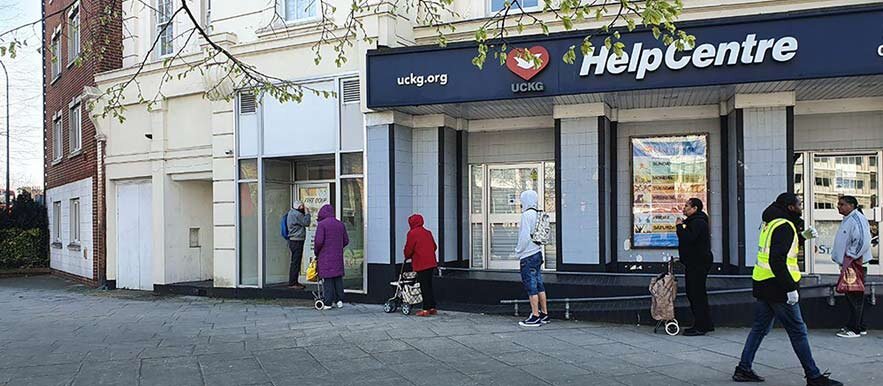 With food banks and soup kitchens now deemed essential services for the duration of the coronavirus outbreak, the regular weekly soup kitchen, which is held at the UCKG HelpCentre at 1 Bromley Road, Catford, saw above average attendance on Saturday 28 March.
Around 60 people came along, far exceeding the usual 30 to 45. "They included some of the most vulnerable people in the community such as those who are homeless, low waged, unemployed, young people and anyone needing support with food," said the soup kitchen manager, Kim Powell.
Everyone received a home cooked soup and a takeaway bag of items. Such were people's needs, however, that the soup kitchen had to close at 12.30pm when it ran out of food, despite its regular opening hours being 11am to 2pm.
The food that was distributed was gifted by a wide cross section of the local community as well as the HelpCentre members themselves. The donors included local residents, and a private school, St Dunstan's College, which supplied fruits, eggs, potatoes and other groceries.
Individuals and small businesses gave generously, including a chippie, Brockley Rock, which gave a large sack of potatoes, and a local cafe. There were large donations from Waitrose, the C0-0p, Fareshare, Aldi, Lidl and Tesco.
The soup kitchen is run by volunteers from the HelpCentre, and every precaution is taken to minimise the risk of coronavirus infection for both volunteers and the people being served. Among other things, this involves equipping the volunteers with gloves, and observing social distancing so that volunteers and users do not get too close or touch each other. All food was pre-packed; and it was not even necessary for anyone to touch door handles.
ENDS
Notes to editors
UCKG is a Christian church and registered charity that offers a range of practical support activities alongside spiritual support and comfort and welcomes allcomers. It reached the UK in 1995 and has gone from strength to strength, providing support and spreading the Christian faith. There are UCKG HelpCentre branches in England and Wales.
For further information please contact the UCKG HelpCentre Press Officer via e-mail on press@uckg.org or direct line 020 7686 6033.