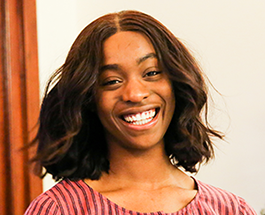 'It was hard to accept that I could have a better life. In my early teens, I was always getting into trouble. I was an angry child; I didn't believe that anyone or anything could help. I became dependent on cigarettes for a period of two years which later led to thyroid problems.
I'm not sure where all this aggression came from — maybe because my father wasn't around, I'm not sure—but it masked a deep sadness within me. I didn't believe that a person like me would get very far in life.'
Ife's mum single-handedly raised her and her brother, but her behaviour while growing up caused tension between her and her mum because she was always getting into trouble.
'My mother worked very hard to provide for us, but countless times I would disturb her at work because I either was in trouble at school or got caught up in situations that involved the police.
I lost sight of who I was. I tried so hard to please others in order to feel loved and respected, but the reality was that I really didn't love myself. I was good at hiding it though. I was suffering in silence. At my lowest point, I tried to take my life.
My mum didn't see my real struggle, I wouldn't let her, but she always believed I would prevail and be happy. I heard about the Universal church through her. Eventually, I decided to open up to someone. The services at the Universal church, especially on Sundays, appealed to me. I learnt about how change could happen and how faith has so much to do with my life and life in general.
I started to understand that change starts from the inside. I was able to confront myself and see a bigger and better picture for my future and the type of person I wanted to be. Through the prayers, meetings, and the Word, I was able to find peace within myself and love too.'
It was a lengthy process, but bit by bit Ife was becoming a happier person. Most important, she started to feel motivated and to build herself up.
'I used to be afraid of success, and I had many doubts. But today, the doubts never prevail. I am so sure of who I am, and I believe in who I am.