The Night Vigil of the First Love
Apostle (Christian), Bible, Christ, Christian, Christianity, fear of God, feeling spiritually renewed, God, God the Father, Holy Spirit, Holy Spirit (Christianity), Jesus, Mary, mother of Jesus, New Testament, we love God,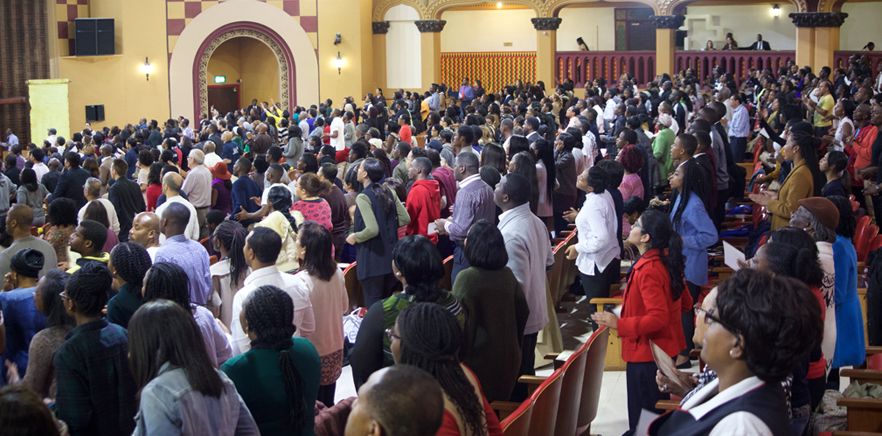 The Night Vigil of the First Love, held by Bishop Randal alongside all London Pastors, took place last Friday 30th September at the Rainbow Theatre. Over one thousand people from all over London attended and hundreds more watched online via video conference.
The Bishop explained that the first love is the love for Jesus and that when we love our neighbours, we love God. As he read the study along with the attendees, he brought to everyone's attention that the "little foxes", "little sins" and "little negligence's" can spoil our spiritual lives. Often, the problem is not the things we do (like fast, pray and commit) but that we do NOT do them like before.
Everyone in attendance was invited to take the cup of salvation AGAIN, call upon God, and pay all vows to Him.
Another highlight of the vigil was the explanation about the need for restoring the respect and fear of God towards all that is holy, which unfortunately is a lost virtue in the lives of many Christians.
"Once what is holy is touched, anything goes" was the sentence that summarised the lack of fear of touching what is holy. Once this happens, everything becomes permissible for the person. Judas "was a thief. And having the money box, he used to steal what was put in it." (John 12:6).
The above word concluded with the advice taken from Bp. Renato's message during the service: "If there is a small drop of Divine fear inside you, respect what is sacred. Or discover the consequences at your own risk."
Conclusion: Let us serve God with respect to what is holy and keep our hands clean; thus, do not touch what is sacred or else "…It would have been good for that man if he had not been born." (Matthew 26:24).
The whole vigil was a blessing and people left the service feeling spiritually renewed.