The Night Angels give hope in Camden Town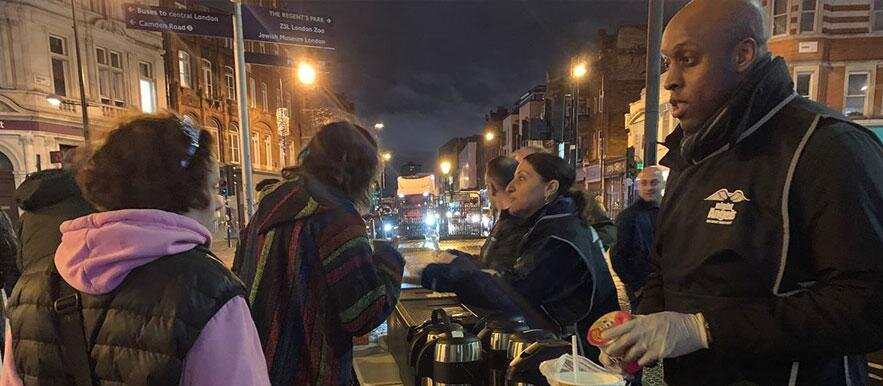 The Night Angels were out in full force in Camden Town last Friday, offering help to those who needed it.
Established in 2012, Night Angels are a group of men and women who selflessly give their time to go and provide aid to those who are in need. They approach those who believe that solace lies within the clubs they attend or the pubs they frequent and offer advice showing them that there are other options in life using real-life stories.
On Friday, November 12, while most people were going about their lives and looking forward to the weekend, volunteers went to Camden Town, in North London to do their bit for those in need.
Pastor David Nzuruba, explains how it went: "The Night Angels went to Camden Town with hot soup, tea, coffee, hot chocolate, noodles as well as sandwiches and salads donated by café-chain Pret A Manger. We set up tables near Camden Town station and invited those people who are sleeping rough and those who are in desperate need to come and have something warm."
When asked about the expectations he had for the night, Pr David emphasised that although they expected to meet a lot of people who were in need, their expectations were surpassed as the Night Angels ended up helping way more people than they had thought.
The main feeling they got from the people they helped was gratitude, "People were grateful for the food and drinks we provided, they went away smiling and of course a bit warmer," he stated. "There was even a gentleman we helped who wanted to give us money for the work we were doing, he wasn't homeless himself, but he wanted to show his appreciation for our work that night."
Mrs Chris Boodram, another volunteer who was there last Friday said: "It was the first time we went to Camden. It was shocking to see the state some people were in, but that is where we need to be, where people are suffering". She also said it was a gratifying to be able to help people first-hand. "We were able to give food, soup and hot drinks to many people that were in need. We also had a prayer point there so we could pray for people and talk to them about the 'Let there be Light' event we are having."
The volunteers happily sacrifice their time, with the only purpose to bring life to those who are lost. All of them have their own story to tell. Some of the volunteers were once the ones receiving help, and now they pay it forward by helping others.
The volunteers take pride in being part of the Night Angels, and in helping those most vulnerable. If you would like more information about the Night Angels, you can call or WhatsApp us on 020 7686 6000.