The Inspiration Behind Reggie Nelson
youth group meeting,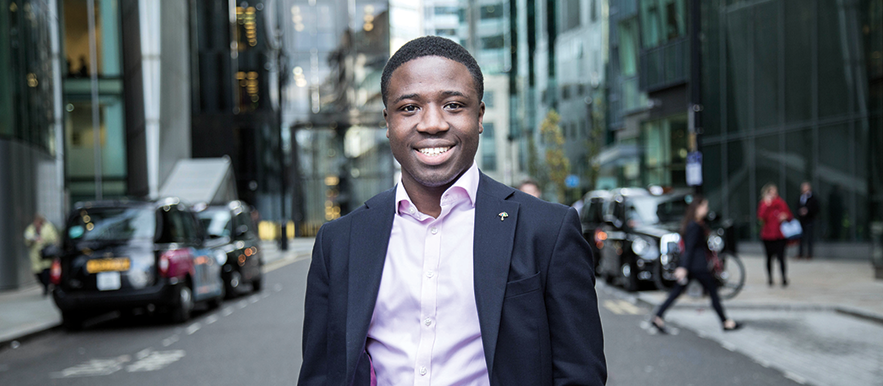 Reggie grew up in a council estate in Woolwich, East London. Growing up was hard because he didn't have positive role models to say, 'When I grow up I want to be like them'.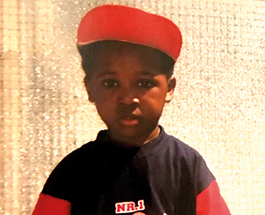 'My parents didn't get along and I didn't have a bond with my sister. At school I was average. I didn't feel anything was moving forward. I didn't have much going for me. I wanted to make something of myself, but I didn't know how to.'
When Reggie was 16, a friend invited him to a youth group meeting. 'I had a friend that was attending the Victory Youth Group (VYG) — the youth ministry of the UCKG HelpCentre. I went there and stayed because of the motivational messages I heard. There were positive people that like me, wanted to make something of themselves.
From there, I also started attending the UCKG. It opened my eyes to stop doing the same things over and over again and try something different. Basically, I took everything they said and put it into practice, because the main thing about the church is that it isn't just theory, but they also offer practical tips.
What you hear at the UCKG can be applied to any aspect of your life. For me, it was especially for my finances, because that was the thing I had been working towards improving. I don't just hear something and keep it in my head to boost my morale, but to use it practically, so I can get results in my life.'
To make this happen, Reggie came up with a bold idea: to go to London's wealthiest boroughs, knock on doors and ask people what they had done to amass their wealth.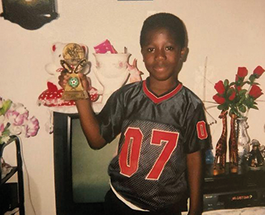 'The idea was the result of two things; the first happened while I was attending the Monday financial service at the UCKG and the Pastor told us that if we wanted to see results, we had to be ready to step out of our comfort zone. I thought about how I could do that. Then, one day I was watching a TV programme where the late Joanne Rivers went up to people and asked them how they could afford an expensive watch or car and I decided to do the same thing.
I researched London's richest boroughs and decided to ask people what skills and qualities that helped them to achieve their goals, then take that information to use for myself.' When Reggie got to Gloucester Road station, he asked his question to people on the street.
'Someone actually gave me £40 just for asking the question, it was surreal', he said. However, Reggie noticed that asking people on the streets wasn't getting him the answers he wanted, so he began knocking people's doors.
'I didn't feel really nervous, because I didn't go there with expectations. As all I was looking for was advice, it gave me a broad scope of results. I had a "nothing to lose" attitude.'
Most of the people Reggie talked to were friendly and although they offered generic advice like 'study hard' and 'get good grades', Reggie appreciated it nonetheless. 'Some people were receptive, some thought I had an ulterior motive and some slammed the door in my face, but I understand those who weren't receptive.
"SOME PEOPLE SLAMMED THE DOOR IN MY FACE"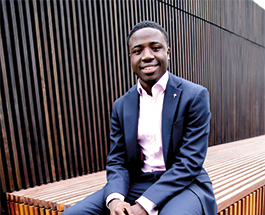 Obviously, to have someone you don't know knocking on your door and asking for advice is out of the ordinary.'
Fifteen houses down his door-to-door mission, Reggie impressed one resident so much that he was invited in.
The woman happened to be Mrs Price, wife of the senior executive of an investment management firm. 'The Prices were very receptive from the get go', Reggie stated. Speaking to ITV's 'This Morning', Mrs Price said that what got to her was the fact that Reggie was smiling, and that he explained what he was doing straight away. 'I was instinctively moved, how courageous of him to do this. I thought this is someone who is speaking the truth and is authentic.'
When Mr Price arrived home later that day and his wife explained the situation, he was amazed by Reggie's determination and can-do attitude. As a result, he offered Reggie a mentorship and gave him the opportunity of work experience at his firm. Reggie highlighted the support both the Price's gave him, but especially Mr Price. With Reggie having recently lost his father, Mr Price served as a new father-figure to him.
Currently, as a graduate, Reggie is a successful analyst who also mentors youngsters from disadvantaged backgrounds. His spontaneous nature and courage led him to have experiences he may not have had otherwise. He gained work experience and internships, which led to him attending university and secured him a great job as an investment analyst in the city.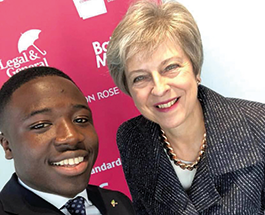 One of Reggie's biggest achievements was meeting the Prime Minister Theresa May, to discuss the 'Race at Work' charter. At twenty- two, Reggie can speak about what many couldn't even imagine. But what sparked this drive to achieve against the odds?
'The VYG helped me stay away from a bad path. I wasn't necessarily a bad person, but as I said, where I grew up it would have been really easy for me to become another statistic. The VYG kept me busy with things to do, and also provided great advice and tips. I heard things like "You can do it", "You are good enough", and "Impossible doesn't exist!" This was helpful because it wasn't something I was used to hearing outside church. I thought, "How can someone else believe in me more than I believe in myself?" Reggie's story is a reminder that anyone can achieve their dreams.