The dark side of being daddy's little girl
Angel of the Lord, God, Hate speech, heal my pain, inner battle, inner peace, Jesus, nothing to lose, perfect family,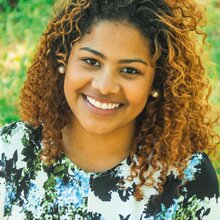 Being constantly pampered and treated as a special little girl made Shanice believe nothing terrible could ever happen in her life. The stability in her household is what some families long for, but what happens when daddy's little girl's world starts falling apart?
"I was used to being surrounded by family. We were so united that misunderstandings were quickly resolved. We seemed like the perfect family.
I remember it as if it were yesterday—my father no longer staying with us on the weekends. What we thought would only happen ever so often became a routine; he would leave on Friday and come back on a Sunday. Hearing my parents as they shouted at each other was something new to me. I was afraid, shocked and completely confused, but when things got physical I was left speechless.
Horrified at what I was witnessing, I began to hate my father. That hatred grew when my mother had to go to the A&E because of him. As the years went by, everything caught up with my father. He became extremely ill, and I, his princess, felt no remorse in wanting him dead. The frustration had built up. Seeing my mother having to work unbelievable hours, made me very angry and I blamed my dad for it. What was about to happen next, no one saw it coming…
My father started beating me every now and then. At first it was really painful but gradually I became accustomed to it. I became numb to everything. I saw no point in living any longer. I built up so much hatred and grudge against my dad. I no longer considered him a part of my life.
When my mum decided to go to London in search of a better life for us, she left me in the care of my father! I couldn't look at him. The thoughts of what happened tormented me. I was no longer his little princess; he disgusted me. I needed to find a way to block out the problems, and so I started to spend a lot more time out clubbing and having "fun" with my cousin. I locked away that broken-hearted little girl. Although I was this wild girl with not a care in the world, coming home every night was the same old routine. I would lock my door, fall on my knees and pour tears of anger, bitterness and disgust. That was when I felt like killing myself. I grabbed a knife, and as I attempted to slit my wrists, something held me back. I wanted to, but I just couldn't ignore. So I dropped it and forced myself to sleep.
Within a month, my mother decided to bring me to London to live with her. The relief I felt was amazing. Obviously, reality hit and the thoughts started to plague my mind of how broken my family was. My mother took me along with her to one of the meetings at the UCKG HelpCentre, but I thought nothing of it. In my eyes, nothing could heal my pain…
Because of my mother's perseverance, I continued attending the HelpCentre. Every time I went, I heard intelligent arguments that made me think about my life and that I could be healed from it all.
I decided to put God to the test. I had nothing to lose. Either I continued with this pain or I put an end to it and move on with my life. I started taking part in chain of prayers on Fridays for me to empty out all the grudges, hate and anger I had within me, and Sundays to receive strength to move on. I started to see positive changes.
It was an inner battle, but I fought through all my feelings and finally forgave my father for what he had done. Today I have such an inner peace and I am happy for the future ahead.
Shanice Peña