The Anointing Oil Event
a great change, Holy Land, our faith in God, start a new journey,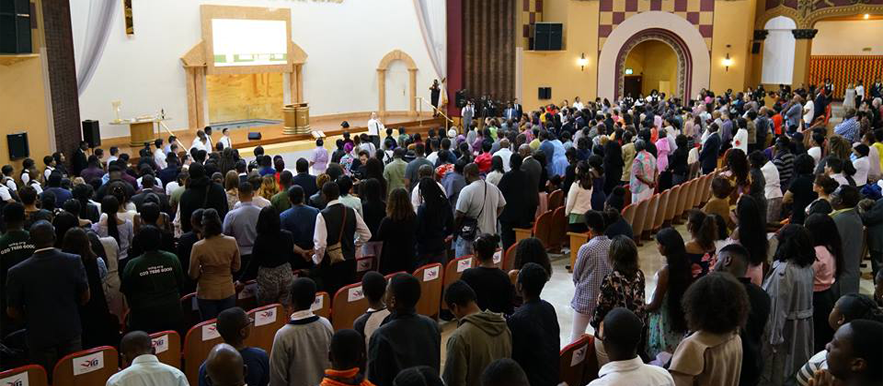 On Sunday, 13 August, hundreds of people came to the Anointing Oil event, gathering at the UCKG in London to witness a great change in their lives.
The meeting began with people giving their testimonies about their experiences with the anointing oil, from overcoming sickness to buying the house of their dreams. The inspiring testimonies showed people the endless possibilities and how to use the oil for themselves.
Everyone in the meeting was anointed with the oil, on both of their hands and on their head. They were encouraged to talk to God about their problems and to ask Him for help. It was an opportunity for people to communicate with God and to believe that He would answer their prayers. There was nothing to lose.
The bishop firstly focused on the physical freedom of those who had come to the meeting in pain and with sicknesses. Strong prayers were made against whatever negativity at work in their lives and a number of them returned to their seats pain-free.
Everyone was then given a bottle of the anointed oil and the bishop helped everyone to gain an understanding of how the effectiveness of the oil in our lives is determined by our faith in God. The oil is not a magical element, but it is a point of contact between you and God. It is something tangible that helps people to activate their faith.
The penultimate part of the meeting was by far the most important, as it offered the Lord's Supper. The Lord's Supper is significant, as it represents commitment to God, forgiveness and salvation. It is a chance for people to be forgiven, as well as to strengthen and revive their relationship with Him. The Lord's Supper was presented to everyone; no-one was excluded from experiencing this great opportunity to start a new journey with God.
The meeting concluded with a study that introduced the 21-day Fast of Daniel, which prepared the people, advising them what to do during the fast.
Overall, the event was an uplifting meeting which left people leaving the place in a different way. Some may have come to the meeting full of sorrow, fear, or anxiety, but they were able to leave feeling peace, happiness, and the assurance of a brighter future.
But that's just the beginning.
For the following two Sundays, a drop of oil from Israel will be added to your bottle of anointing oil. This oil is significant because it was cultivated in the Holy Land, and you will learn about how it can help you. If you were not present at the anointing oil event, you can still come to these follow-up meetings, as you will also be blessed with the anointed oil from Israel.
The significance does not only lie in the oil but, most importantly, in your faith. God wants to help you come out of your problems and for you to live a great life.
Learn how to use your faith in order to experience a great change: come to our next meeting on Sunday, 20 August at 10am, at your local UCKG. If you would like more information, please call our 24-hr helpline on 020 7686 6000.
Were you at the anointing oil event? If so, let us know about your experience in the comments below!
Event: The oil from Israel
Day: Sunday
Time: 10am
Location: Your local UCKG