Spice, a drug which turns people into 'zombies', is becoming a national nightmare
difficulties in life, drug addiction, drug epidemic, homeless people, Manchester, Manchester Metropolitan University, muscle weakness, Rainbow Theatre, spice, the past weekend,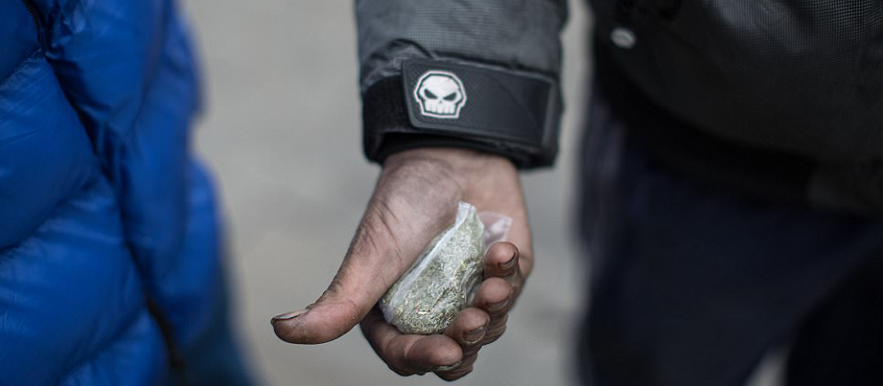 Manchester is now becoming a drug hotspot, as there have been nearly 60 'spice' drug-related incidents over the past weekend in the city centre.  There have been reports of 58 related spice incidents and authorities have had to impose a 48-hour dispersal order, with special forces arresting anyone suspected of taking or supplying the drug. Since the police crackdown, 51 arrests have been made.
Spice is known for leaving people in a "zombie-like state" and can cause hallucinations, muscle weakness, paranoia, vomiting, violent behaviour and psychosis. Due to its dangerous effects, the supply and production of spice has been banned, however, people are still consuming it.
Dr Robert Ralphs, who is a senior lecturer in criminology at Manchester Metropolitan University, has conducted research into the drug and says that it is more addictive than cannabis. "It's quite common for people to say it's overtaken their heroin or methadone addiction," he adds.  The drug is also very popular amongst homeless people, with 90 per cent of them having tried it. Furthermore, charity workers say that many consume spice as it helps them 'self-medicate' and forget about their difficulties in life.
Due to the sudden surge in the deadly drug, authorities in Manchester have called for more action to be taken to tackle the drug epidemic. The city's crime councillor, Nigel Murphy, has called for the government to provide more resources so that police and medical services can tackle the issue more effectively. "It is a problem that we cannot afford to get any worse," Nigel says.
If you are struggling with any drug addiction, the UCKG HelpCentre runs an Addiction Cleansing Therapy (ACT) meeting every Sunday, at 4 p.m., at the Rainbow Theatre. This meeting provides effective treatment to help you tackle your addiction. If you would like more information, please call 020 7686 600, or visit the ACT website.
Sources* https://www.theguardian.com/uk-news/2017/apr/10/manchester-police-calls-linked-zombie-drug-spice?CMP=Share_AndroidApp_Telegram https://www.dailymail.co.uk/news/article-4397316/Horror-movie-footage-homeless-Spice-addicts.html