Mum of Two turns passion into opportunity
a positive impact, challenged me to use my faith,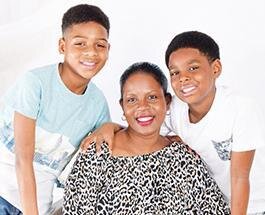 Elma Burke never dreamt that her passion for poetry would not only be embraced by her sons but inspire people she would never meet. Inspired by her faith, past and imagination, the St. Lucian-born mum penned a collection of poems that have become a useful teaching method for poetry workshops for schools, fun time for her son's friends and gifts that she hopes will give young writers and their parents the confidence to write their own unique poems.
'The poetry and activity days that I held as my boys got older were a fun and creative way for me to spend quality time with them. It also helped me better understand their feelings through their writing,' she says.
'Those experiences inspired me to write a children's poetry book together with my kids. If this simple activity had such a positive impact in our relationship, how many other families could also benefit from this? I saw it as an opportunity to do something with my talent.
There were some frustrating moments though—computer crashes, unexpected fees, terrible delays and a lot of back and forth— that had me feeling like I'd bitten off a little more than I can chew.'
The setback couldn't stifle Elma's enthusiasm and belief that is so evident through her writing, for long. 'What kept me going was my faith. I believe that there are no impossibilities, there is always a way.
The financial meetings, on Mondays at the UCKG, challenged me to use my faith in a practical way. This meant that it wasn't about praying. It was about me going out there and acting with a 'no negativity attitude'. I made calls, worked hard on the book, searched for publishers. In short, I did what I could do, trusting that God would do what I could not.
I hoped that Incorrect Rhymes would be launched by 23 June 2018 but everything fell into place so fast that the book was published and released on 27 May.'
When asked what her advice was for those pursuing a goal, she said, 'Believe in your dream and be ready to work for it. I had to silence the voice of doubt and seize every opportunity. For me, the Monday meetings were a constant reminder that God can do great things in the lives of those who partner with Him, but it doesn't mean that I cross my arms and hope for the best. When you put the work in and go in faith, it's going to work!'