MP & Mayor of Haringey acknowledge Universal Church's work for the community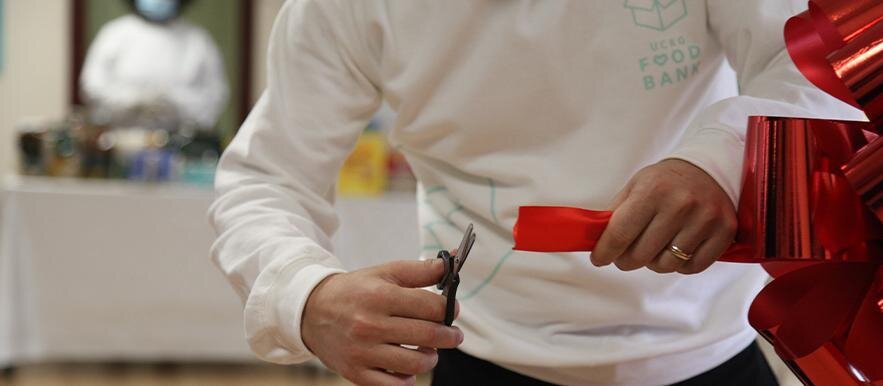 We have successfully launched another UCKG Food Bank initiative in Wood Green last Saturday, 6 November.
Around 70 people came on the day and were offered a number of food products that had been donated for those in need. Our volunteers packed, prepared and sorted all items the night before. These included fresh fruit and vegetables, as well as non-perishable goods, such as canned and tinned goods. We also offered attendees hot drinks on the day.
Pastor Rennan Vieira, who was one of the event organisers said: "We are opening our Food Bank because we see that there are many people who are struggling financially and in need of support. Some are going through such a tough time that they even have to choose between paying their utilities bills or buying food—this is why we opened."
To mark the occasion, we invited former Deputy Mayor of London, Nicky Gavron, Labour MP of Haringey, Catherine West, and the Mayor or Haringey, Adam Jogee.
Speaking directly to the 10 volunteers, Mayor Adam Jogee said: "Thank you for caring, for turning up. In a difficult, more unequal more unfair world what you are doing here is forming part of the solution".  He finished his speech by thanking the church for 'reaching out to people going through difficult times' but not before a little banter and laughter with the volunteers.
Labour MP Catherine West also said a few words to thank our volunteers for the tireless work they do, and emphasised how the most important thing they give is time, especially in a busy city like London. Regarding the food being given, she said: "It's lovely to see the sorts of products you have here, like for example your chickpeas and lentils. That's the food of the future because it costs less to produce than lots of meats and also it's very nutritious and protein-rich food so it fills you up more".
She then went on to thank the Universal Church overall for providing an essential service: "We do need the help that you're all able to pull together to give, and also the spiritual guidance that many of you also give as well, which keeps people going. We know that there's about 20% more demand on our mental health services, you don't have to be a trained psychologist, you just need to be a good listener".
Ms West ended her speech by saying: "Thank you for being here in Wood Green, I'll be sure to mention you in Parliament. We do live for that future where we don't need to have food banks, but in the meantime, thank you for sharing your generosity and the spiritual boost in the arm that you are giving us all".
With this latest opening, we now have more than a dozen UCKG Food Banks operating every Saturday across the UK, our aim as always, is to help people in their time of need.
The food bank in Wood Green will be operational every Saturday between 11am and until 1pm for anyone who should need it. For more information about where you can find our Food Banks or soup kitchens you can call or WhatsApp us on 020 7686 6000. Alternatively, click here to find your nearest branch or email foodbank@uckg.org.