In love with the new me
bad luck, felt, hope seemed lost, I felt frustrated, I was living in hell, my desperate situation, turn my life around,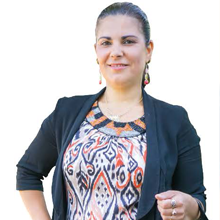 Marisa's journey has been a rocky one from the start. At one stage in her life, all hope seemed lost. Yet when many people would have let their emotions drag them down, she was able to rise!
I had such a troubled upbringing; I felt as though I was living in hell. My drunken father was a nightmare. Whenever he was intoxicated, he would break things in the house—I was not proud to have a father like this. I felt let down when I saw how happy my friends were with their families.
As I got older, I was shadowed by bad luck. I felt frustrated because everything would go wrong for me. I became such an angry person that I would lash out on people and end up in fights.
When I got married, I thought it was the start of my good fortune. But it turned out to be a big let-down. My husband and I went through so many problems in our marriage that I felt torn in two when he suddenly left. With a child to raise on my own, I felt completely empty inside.
It was at this point that a friend of mine who saw my desperate situation invited me to the UCKG HelpCentre. Walking through those doors was like a ray of sunlight. I spoke to an advisor who listened to me and guided me to get the right help. I started attending the Friday sessions, which played such an important role in my recovery. I felt myself gaining the strength and courage to turn my life around. With perseverance I got there!
Today I feel stress free! Although I am not with my husband, I have learnt to give myself hope. The anger and bad luck that followed my life have vanished."
Marisa Sousa