I worked as a cleaner to make ends meet
Cost, my own business, out of any situation,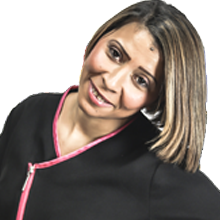 Depressed and without any life prospects—that was the best way to describe who I was. I was going through so much financial struggle that I barely made ends meet working as a cleaner. It didn't help that my husband and I had problems that created one big mess.
However, by coming to the UCKG HelpCentre and the meetings offered there, I learnt that there is always a way out of any situation. Through the teachings and financial advice I was given, I discovered that with faith, I could change anything in my life around.
What stood out to me the most were the Monday Independence Project meetings as well as the other movements I took part in. This was the turning point for me. From the moment I took a risk to receive something greater, I didn't regret it.
Today, I have reaped the rewards of using my faith in these programmes; even my family life has improved. In general, my life has evolved and my financial situation has done a complete U-turn! I am now a qualified mobile beautician, specialising in cosmetics. I have my own business car, which gives me great flexibility because I can reach a number of clients and work around my two sons.
A few years ago, I was recognised by a local magazine investor, which is a great platform for my business. I can't stop smiling when I think of how my life is today! This is only a stepping-stone. There is more to accomplish.
Nazare da Silva