I invented the life I dreamt about
a blow to my confidence, attending the financial meetings, I have seen my finances grow, making bad decisions, opportunities you never expected, strength and confidence,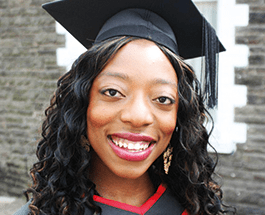 Before coming to the Universal Church, Marjory was a broken young woman. She had many insecurities but kept up a convincing act of being the life and soul of the party. This took its toll on her state of mind – until she found a way out. Read on to learn more about her experiences.
'I was accustomed to keeping up appearances; I don't think anyone around me really noticed how unhappy I was. Full of deep sadness and insecurities, I often thought about ending my life and would cry a lot when I was by myself. To numb my feelings of unfulfillment, I did crazy things to impress my friends and get men's attention. There soon came a point where I stopped caring about what people thought of me and my extreme actions. I had multiple boyfriends and went clubbing in different cities just to fill the emptiness I felt. This meant I ignored my education – I changed from being someone who was known for doing well in school to someone who was only going to university through clearing because she didn't get the required grades. This was a shameful phase for me, because I knew I was better than that but couldn't stop myself making bad decisions.'
So how did things change for the better, and was this an easy task?
'In my first year of university, I was invited to the Universal Church. Although I resisted attending church at first, I soon began to understand what my faith could do just by following what I was learning in the meetings, especially the Monday meetings. I gradually learnt and understood that I had to be God's partner in order to succeed financially. To me, being in a partnership with God means that I work with God through all my battles and difficulties. In addition, by being obedient to His Word, over time, the results begin to appear. I had never before been taught what I was learning there and, soon after, I began to see changes in my confidence and vision for the future.
Doing badly in my A-levels and gaining a university place through clearing had been a blow to my confidence, so I had begun
to believe that I was not clever enough to understand what I was learning. However, because I was attending the Monday meetings with the goal of improving my willingness to learn, I began to gain the strength and confidence to look at myself
differently and believe that I would graduate. This new-found strength helped me achieve an appointment as the Student Voice Representative for the Faculty of Science. My grades also improved as I began to do better in my studies.
I was delighted when I was accepted onto my master's degree, but I also didn't know how to pay for my school fees. Once again, I used my faith by attending the financial meetings on Mondays and not allowing the feelings of anxiety to rule over me. To my surprise, I was offered a scholarship even though I had not applied for it. This scholarship helped me pay my school fees so that I wasn't a burden on my parents, who were supporting me at the time.
Through constant perseverance and faith I have seen my finances grow and move forward more each year. I now have bachelor's and master's degrees in chemistry. I have developed a career in business development and account management and worked for some of the biggest companies in the testing, inspection and certification industry. Since coming to the Universal Church, my life has gone from strength to strength, even through the daily battles. I don't give up because I believe my partnership with God guarantees me continual growth.'
What is your advice to anyone reading this?
'If anyone reading this has failed and made mistakes that make it seem impossible for them to be successful, I would say to them that the key is to persevere, knowing that your blessings are just around the corner. Never stop seeking opportunities for growth: God can lead you to places and present opportunities you never expected. Don't be afraid – just keep believing that it's going to work!'
Marjory Chiyesu