From a Barren Land to a Beautiful Garden
God's presence, the Holy Spirit,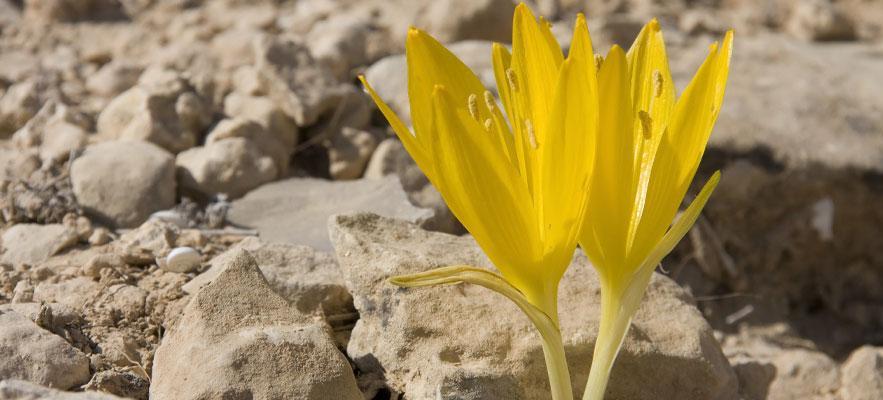 A person who is without the Holy Spirit resembles a wasteland that is desolate and devoid of life. Much like the Negev in its notorious form: a large desert region in the south of Israel that exhibits barrenness and dry land. It expands to almost 4,700 square miles and covers approximately 60 percent of the country's landmass. *
Although the Negev is a wasteland, something incredible happens when it rains. The Beersheba area receives 8-12 inches of rainfall in some years, the central plateau receives 3-4 inches, and flash flooding is common in the winter rainy seasons. **
This abundance of rainfall causes torrents of water to flow from the mountains towards the Negev, filling every empty space. This transforms the dryness of the desert into a garden of beautiful and unique flowers.
Just like the overflow of water produces new life in this desert, this is also what happens to a person who is thirsty for and receives the Holy Spirit. They are no longer empty and deserted internally, but God causes them to become beautiful and filled to the brim with Himself – the Living Water.
This is what God wants to do inside of you when you commit yourself to marry Him, which we will be doing on Sunday 23rd August. We are preparing ourselves for the Marriage of the Lamb where we will become one with God and receive His seal, and the barrenness that we were once so used to will become a thing of the past. Our thirst will be quenched.
Do you long for a new life, a new heart, a new mind? Are you thirsty for God? Are you tired of the pain in your soul? Only the Holy Spirit can fill you and remove the unexplainable hurt. Only He can mend the brokenness of the soul. But you must be thirsty for Him.
We are in the final week of preparation, picking out our best clothes, contacting our wedding guests, and searching ourselves so that He will find us pure and acceptable. If you don't yet have one, purchase a wedding ring that will symbolise the seal of God's presence in you on the day.
Join us at 10am for the Marriage of the Lamb. For more information, call 020 7686 6000.
Event: The Marriage of the Lamb
Day and time: Sunday 23rd August at 10am (also at 7.30am)
Location: At your local UCKG branch 
*Source: https://www.newworldencyclopedia.org/entry/Negev_Desert
**Source: https://www.britannica.com/place/Negev