Empowered to beat depression
Bible, God, happiness, learn something new, suffered from depression, Sunday morning service,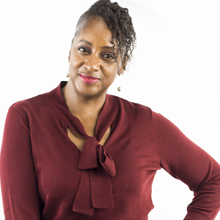 How does one find happiness after landing in depression? Some people surround themselves with friends, others try to keep themselves busy. Continue reading to find out how Jackie Fearon dealt with this unwanted feeling.
I suffered from depression after having broken up with my former partner, whom I was in an 18-year relationship with. During our time together, I invested a lot into the relationship. Everything hit me hard after the break up; I started isolating myself and as a result, I wouldn't go out as often. There was even a point where I tried counseling. But it did not help.
A colleague at work noticed how gloomy I looked. On Mondays, the colleague would always give me the weekly magazines from the HelpCentre to read. I wasn't too keen at first, but soon after I decided to attend the HelpCentre during a Sunday morning service.
Inside I felt broken. I wanted a change, but during my first visit, I didn't think I was ready to receive help. The advisors tried speaking with me but I kept to myself. However, the more I came, the more I felt ready to open up. I was ready to learn and receive something.
I decided to attend the Friday meetings because I knew that the negativity around me would have to be removed in order for me to feel happy. I was constantly feeling sad. The Wednesday and Sunday meetings strengthened my faith. The Sunday meetings, in particular, empowered me; I would always learn something new. As a result, I could see my character changing. Eventually, I saw an internal change within me.
Today, I am happy. I am also filled with the joy and guidance that comes from attending the services. Not to mention, I am an assistant at the HelpCentre, so I now have the privilege of helping others. Depression no longer controls me. I have my life back!
I would advise those who come to the Sunday services to come ready to receive and hear something which can change their life, even if it's just one word. Regardless if you have been attending the HelpCentre for years, come with this attitude and God will speak to you.
Jackie Fearon