Don't settle for less than you deserve
a law degree, Boat, Canary Wharf, Canary Wharf Pier, high salary job, London, Money laundering, River Thames, the Independence Project, United Kingdom,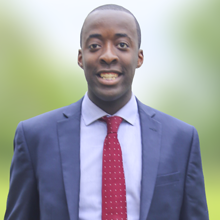 Sometimes life throws us a curveball, but the final outcome is dependent on the individual. After finding the UCKG HelpCentre, Charlie decided to react differently to his problems. Continue reading to find out the astonishing results he managed to achieve:
"From the age of 14, I was heavily involved in money laundering, but it all stopped when I reached 16 and was caught. I became blacklisted and was unable to attend college. The address my family and I lived at was also blacklisted; my mum was unable to do anything financially and I received a penalty demand of £10k. This was the baggage I came to the UCKG HelpCentre with.
I had previously tried applying for loans to consolidate my debts but that only got me into more debt. On top of that, I couldn't get a job due to banks rejecting my appeal to open a bank account.
Upon invitation, I started attending the UCKG. I was intrigued with people's results from the Monday Independence Project meetings, so I also started participating in them. It really helped me in terms of being organised and aiming high for the things I wanted. I soon started to see the results I longed for.
After five years of being blacklisted, I received my first bank card. I also got into university and graduated with a first class degree, securing a very high salary job in one of the world's top accountancy firms.
However, I found myself not enjoying the new role and the salary wasn't ideal for someone who was awarded first-class honours. So I challenged myself to start applying for work within the law sector, even though I didn't have a law degree.
Nevertheless, I applied for jobs no less than £40k per year, believing that I would get the job. The first job I applied for required me to work outside London but that was not what I wanted; however, I went to the interview, determined to convince them to give me the job, but in London.
After five weeks of being interviewed, despite all the other candidates who had studied law and had experience in this field, I received the job at their headquarters in London Canary Wharf. I am now earning the salary I aimed for and I can definitely see the help of the Independence Project meetings in my finances all the way through."
Charles Mensah