Caleb Women Appreciation Day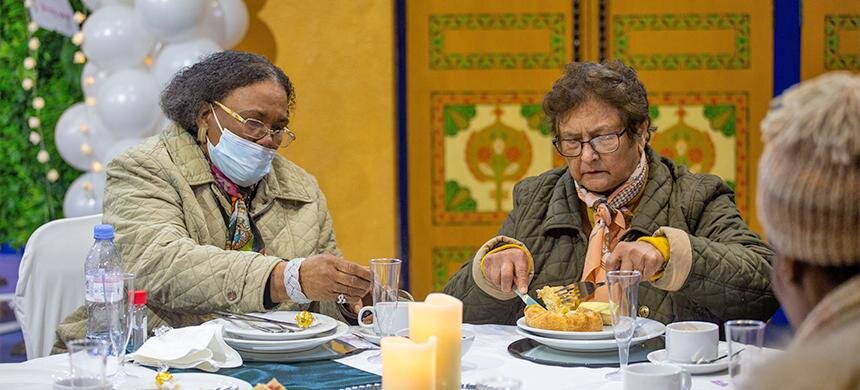 On Saturday 19th March, the Victory Youth Group (VYG) hosted a Women's Appreciation Day, which took place in Finsbury Park, our headquarters. This special afternoon was a fun-filled event which also brought some well-deserved rest and relaxation to the over 55's. This was an opportunity for the VYG to serve, appreciate and show value to the Caleb females.
Bishop James and his wife Mrs Helena shared a special message and prayer for the Caleb's via video, blessing them and the event before the activities kicked off.
The members indulged in a pampering session which included having their nails painted and their hair styled. This was their time to decompress and unwind. One of the helpers on the day, Michelle Joseph said, "It was a pleasure to do the nails for the women of the Caleb group. They were very appreciative of the treatments and just putting a smile on their faces made it worthwhile. It is always a blessing to give than to receive."
Other activities included painting, karaoke and a knitting project, where they were able to take home their finished designs. In the comfort of other Caleb's, they had an afternoon tea on tables sophisticatedly dressed in sage green and white, followed by an exceptional dance performance and an original song prepared by the VYG. Each woman left the event with a beautifully presented goodie bag – a memento for them to remember that they are treasured.
Host, Kimberly Titilawo, said: "It was an amazing day. This event was put together to show our love and care towards the Caleb's, reminding them that they are special and will always be appreciated. We loved putting a smile on their faces."
Pastor Michael Osei, who oversees the Caleb Group concluded the day with a final prayer blessing all the Caleb's even those who unfortunately could not attend. He stated: "The young came together to serve those that are mature in age and it was good to see the different generations come together in one accord. There were smiles all around and the Caleb's certainly left feeling appreciated."
It was a beautiful, well organised event that the Caleb group nor the VYG will forget.
If you would like more information about the Universal Churches outreach projects, please call or WhatsApp us on 020 7686 6000