Blessing of the Teachers and Students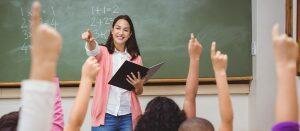 Everyone has that one teacher they will never forget. Do you remember yours?
Most students spend a lot of time at school, so teachers end up not only educating, but also building character and teaching values. The influence a teacher has on you reflects far into the future. We all have that one teacher we will always remember because of the care and kindness they showed us, or for their belief in us, when no one else believed.
Teachers are highly influential role models. We couldn't have a structured society without them because our society is built around education. Even in the Bible, the disciples called Jesus Rabbi, which meant teacher. The words of a teacher are like that of a pastor – they hold weight.
"Train up a child in the way he should go, and when he is old he will not depart from it." (Proverbs 22:6)
Being a teacher is an extremely important job. That's why this Sunday at the Universal Church we will be blessing teachers and students so that God can give them wisdom and vision. Whether you're an ex or retired teacher, a teaching assistant, a coach, a trainer, or anyone associated with the world of teaching and education, come to the Sunday service at 10am to receive a blessing at the Altar.
If you would like more information, call or WhatsApp us on our 24-hour helpline 020 7686 6000.