Adjust your inside
faith in God, I decided to get to know God,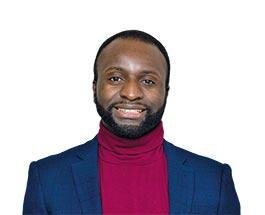 Justin Williams was placed in care at two months old and stayed in the care system until he was 15. Although he was very proud of himself because he did extremely well in school, that was not enough to fill the hole he had inside due to the lack of parental love and affection.
'When I grew up I decided to move from Canada to the UK, hoping that maybe living in a different country would fill my void. Not long after moving to the U.K., a friend invited me to the Universal Church. At first, I only went because it gave me a reason to leave my house and forget my problems, but as I heard messages that inspired me, I decided to get to know God for myself.
My biggest battle was internal, due to me not having experienced family love, so I first had to overcome my pride, arrogance and selfishness and ask for help. I understood that to win that battle I first had to chane my mindset – the way I thought and went about doing things. It wasn't easy, but as I asked for God's help and put all my strength into this change, a new mentality started to develop in me.
After overcoming my inner battle, I then had to face an exterior battle: I was jobless. This consequently led me to become homeless and just before my final year of university, I was sleeping in a cramped garage.
However, this time, with my new-found mindset, I started to see things differently. I thought, "I have the option to use my faith in God and in myself to take the necessary steps to turn my situation around or to cave in." I did the former and began to see each day as a new opportunity to fight for the life I wanted.'
With the guidance from the financial meetings in the church, Justin began to plan how he would be successful. He took the first step of looking for a good job. 'It wasn't easy.
My applications were rejected more times than I could count and some people didn't even reply at all. Sometimes I felt discouraged, but I held on to my faith and the encouraging words I heard at the Monday meetings.
Although I never studied Software Engineering at any academic level, I saw it as a field I could go into for the future so I invested in it along the years, watching YouTube videos, reading books, attending conferences and asking questions. This led me to someone who pointed me in the right direction, and this is the field I am working in now.
I started at a level that wasn't even software-related. I was just a simple IT Advisor, answering phone calls and helping people with basic computer needs over the phone. However, while I was in that position, I observed the Software Engineers with such intent that it drove me to become one. I thought like a Software Engineer and behaved like one.
Fast-forward to today, it's been 4 years that I am no longer homeless and I have a very good job as a Software Engineer in a managerial role. God has blessed me in such a way that despite being the youngest in my department, I manage 4 floors in my building and receive a very high salary to go with it. I am excelling in whatever I put my mind to and in areas I never thought I would be because I know God is guiding me.
Nevertheless, my biggest achievement has been my inner transformation. When I think about the Justin then to the Justin now, all I can do is smile. I have peace, I believe in myself and I have faith to conquer anything.'
Justin Williams