A perfect match
a positive way, American Sociological Review, God, Love Talk meetings, Marriage, my love life, United Kingdom, Wife,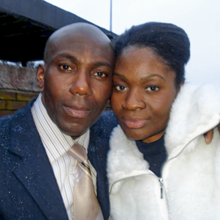 Franklin: "I had previously been engaged twice; however, I had never gotten married. I soon gave up on my love life and became uninterested in marriage.
When I attended the HelpCentre, I noticed that the UCKG members talked about their love lives in a positive way; some of my friends were married but they never spoke about their wives in such a way. Whatever the members had, I wanted to have the same in my love life.
I met my wife through the Love Talk meetings on Saturday. During these meetings, I noticed characteristics of my love life that I needed to abandon.
Today, my wife Joyce and I have been happily married for eight years. We have a daughter and another child on the way.
Joyce: I never dated a real gentleman. I was always the one giving my all in relationships, which all changed when I met Franklin. Now we're a very happy growing family."
Franklin & Joyce Iwuozo